Prepare for the Coming of Neil Diamond on July 16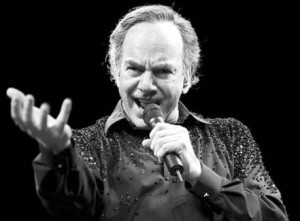 Forever In Blue Jeans, Cherry Cherry, Sweet Caroline, Girl You'll Be A Woman Soon, You Don't Bring Me Flowers, Red Red Wine, America – are we sensing a theme yet?
You guessed it: All of the above are songs by the one and only Neil Diamond, who is mounting a huge Greatest Hits tour next year. Edmonton is near the end of a long list of dates announced Tuesday: July 16 at Rexall Place. Tickets will be going on sale Dec. 12. Will some lucky lady and/or man, but probably lady, find a fresh pair under the tree at Christmastime? Pair of tickets, of course. Underwear is also nice.
Diamond, who will be 71 years old by the time he hits town, has carved an enormous swath of pop goodness through the North American cultural landscape. He's been working more or less non-stop for half a Century, getting his start as a songwriter in the famous Brill Building of New York City, a brick factory where most of the day's pop songs were written and stars manufactured. That is, until the Beatles and their rock and roll ilk put an end to that. It's back, but whatever.
Back to our story, the nice Jewish boy with the nice voice and magnetic stage presence would hone his skills for a career that would see his insanely catchy songs (only a few mentioned, above) covered in almost every conceivable form. One can only imagine the royalty cheques this guy gets – not to mention revenue from the 125 million records he's sold and also not to mention the sold-out arena tours. We mentioned it. This may in fact be a rare instance of a songwriter whose songs are not quite as famous as he is.
Diamond stands to bag even more cash for Greatest Hits. You can bet on the merch: A new album: The Very Best Of Neil Diamond – The Original Studio Recordings, in stores Dec. 6. Did we mention it makes a great gift? We didn't? It makes a great gift.