THEATRE: Fiction stranger than truth in Offensive Fouls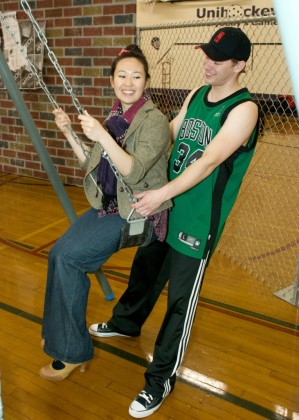 Strange but true: Fiction can sometimes illustrate truths about reality even better than reality.
Wrap your heads around that, non-fiction people.
This idea is demonstrated in a big way with Concrete Theatre's touring school plays. The latest production, Offensive Fouls, deals with racism, something young people – heck, most people – are often unwilling to open up about.
Director Caroline Howarth says, "We've always found that with issues that can be difficult, the students can talk about them through the characters in the play, and go a lot further with the discussion. They can personalize it. It deals with really complex issues in a way that brings them out so people can talk about them. That's the whole point."
The shows at Catalyst Theatre over the weekend were among dozens of performances in schools around Alberta. Offensive Fouls is about an interracial high school couple – he's Irish, she's Chinese – whose relationship is put to the test when the boy becomes involved in the racially-motivated assault of a Chinese shopkeeper. He keeps the secret from his girlfriend, who has a secret of her own. She's neglected to tell her parents she's dating a white guy. Cue discussion.
Howarth praises playwright Jason Long for his "realistic" teenager dialogue, "It's a challenge to write teenagers who really sound like teenagers."
They did this five years ago. Howarth observes there's greater cultural diversity in Edmonton schools now than there was when they toured the show in 2006. Whether this means more or less problems with racism in the schools "depends on the school," she adds, and how well the students of different races interact with each other.
It's not often the public gets a chance to see "what they're teaching the kids these days," so when you do, it behoves us to pay attention because the target audience will be calling the shots before too long. Concrete gives public performances of all its school productions, the one exception being "Are We There Yet?", which deals specifically with sexual health among 14-year-olds.
"It's a pretty select audience," Howarth says.
Tickets to Offensive Fouls, playing Friday at 7:30 p.m. and Saturday at 2 p.m. and 7 p.m., are available at Tix on the Square.