Mercury Opera goes Underground for experimental concert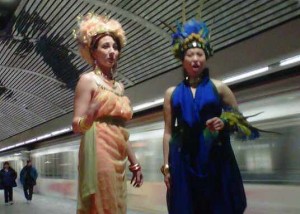 You get all kinds of buskers in LRT stations, but this one is a doozy – an entire opera company in Bay Station on Friday night.
BING BONG! Northbound to Clareview! Clareview!
Cue Nessun Dorma.
Anyone who pays their fare is welcome to attend Mercury Opera's experimental opera recital in a production called "104 Underground." A few bewildered LRT travellers will have no choice, of course. The cello case will be open for donations. No pressure.
A select few area opera fans will also be part of an exclusive pre-opera "ramble" taking place at four retailers on 104 Street, treated to free appetizers and drinks before being escorted to the concert hall … that is, LRT platform.
This is what Mercury Opera does. They stage opera events in unexpected places. Artistic director Darcia Parada says the setting plays a huge part in the show. "The premise is that when you drop the fourth wall, it makes things more interesting. It makes people a little more relaxed and also adds a sense of wonder. It's not the same old same old."
The fourth wall, of course, is that invisible barrier between the show and the audience, or more accurately that threshold that renders the audience invisible to performers on stage. Usually when one says "breaking the fourth wall," it means an actor starts talking directly to the audience. In this case, the fourth wall is just not there at all. All the other walls are missing, too.
"We use the entire venue as the stage," Parada says.
There are certain challenges to mounting a show on an LRT platform. The noise of the trains is the least of it. 104 Underground features several fully-costumed performers who will be making entrances via LRT cars coming from both ways. If they're not on their mark between 8:12 and 8:13 p.m. for the opening number, they might have to go with Plan B.
"Plan B is the string quartet keeps playing until the singers arrive," Parada says with a laugh.
This isn't some rinky dink opera operation going for cheap thrills, but a professional, classically-trained company that just happens to have some unusual ideas about where to perform. The strangest may have been a performance of Pagliacci inside the Coney Island sideshow in New York City – in the company of various freaks, geeks and sword swallowers. Mercury earned rave reviews for its performance of Puccini's Madame Butterfly in Edmonton this summer – under a tent in Giovanna Caboto Park.
Parada says, "Somebody actually complained, 'What is this? Why can't you put this in the theatre?' I said, come and see it. If you don't like it, you can ask me for refund. She didn't."
What's next? Fringe-goers might recall a particularly inspired year of BYOVs (Bring Your Own Venues), with plays set inside a train tunnel, inside an outdoor hockey rink and in a mechanic's garage.
"The thing about opera is that it's kind of, you know, crusty," Parada says. "With theatre it's more acceptable to do stuff like that. When I stared this company in 1999, I actually went to see Tony and Tina's Wedding in New York that was interactive and it was great. I went a theatre show that was staged inside the anchorage of the Brooklyn Bridge, the part that holds the bridge up. It was amazing. When I started this company, opera didn't do things like this. Of course now it's almost old hat. I almost feel like I'm boring myself."
Really? What could be boring about a string quartet and opera singers performing The Flower Duet in Edmonton's coolest subway station? Parada brings up a social experiment involving Joshua Bell that the Washington Post staged in August 2010. The famed violinist wore a baseball cap while he busked – and earned $32 and change in 45 minutes. Only one person recognized him.
Then again, he wasn't singing Nessun Dorma in full regalia.
Tickets to Mercury Opera's pre-opera ramble, starting at 6 p.m. on Friday, are $25 and on sale at the participating retailers (Devine Wine and Spirits, Eyecare Group, Armstrong 29 and Coup). A portion of ticket sales go to Edmonton Transit's Donate-a-Ride. More info online here.