Sexual trade show all about education, insight, sex toys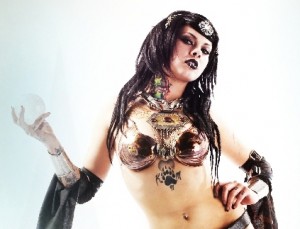 When tying up one's sexual partner, it's easy to learn knots that won't constrict blood vessels or cause nerve damage. And one should always have a safeword, preferably not "please … don't … stop" or combination thereof.
These are just some of the many things you can learn at Taboo, the Naughty … But Nice Show happening Thursday through Saturday at the Edmonton Expo Centre. The special celebrity guest will be actress Monique Alexander (below), multiple AVN (Adult Video News) Award winner, the latest being for "best all-girls couple sex scene" for her performance in the film Meow!
This is a sex trade show. No, not a show for the sex trade. It's a sex trade fair, that is, a trade show for fair traders of sex … no, that's not right, either.
The first thing to learn is what to call it.
"It's education and insight," declares spokeswoman Jade Cooper. She talks about removing the "stigma" associated with sex in society and of being advocates for a "safe, sane, consensual forum for people from all walks of life to talk about sex." Taboo is open to everyone: "Singles, couples, heterosexuals, LGBTQ, the kink community … whether your flavour is vanilla or Neapolitan with sprinkles on top."
Yes, one of the first things we learn is that one's sexual adventurousness can be quantified by flavours of ice cream.
Much more than just table after table of dildos and whips and orgasm-enhancing unguents for sale, this Sexual Education Bazaar is a place to see trends in human sexuality. A company called Fantasy Warriors out of Calgary (featuring Tayln Stone, top picture) – you can get your picture taken with models decked out like comic book characters – is trying the sex fair thing for the first time this year. After years of catering mainly to the fantasy crowd, "We're trying to find out if there's a deeper market for us," says owner/artist David MacKenzie. Having just finished Calgary's edition of Taboo, he says he was surprised how popular the female characters were – with both men and women – while his male models were basically ignored. It could just be a demographical blip due to the possibly swinger-threesome-friendly element of the "fetish crowd," but who knows? The one thing MacKenzie noticed was how open and honest most of the attendees were, once you get past the snickering stigma of the outsiders.
He says, "I was raised Roman Catholic, so I know what they're talking about, but I also have the mind of an artist. What I see is that they are, with open arms, trying to explain to the public what they're doing."
Another of what Catholics might call an "unusual" exhibitor is Pole Junkies, promoting pole dancing as an aerobic exercise. It's not just for strippers anymore.
An Edmonton company called the Travelling Tickle Truck will be staging bondage demos: Tie Me Up, Tie Me Down, in which one can learn the aforementioned safe knots. "If you tie granny knots, you'll be in trouble," says owner Brenda Kerber, who also says the Taboo audience is generally very knowledgeable and open-minded.
For the truly open-minded into exotic sexual ice cream, there will be a tasteful curtain obscuring the demonstrations being hosted by the Alberta Society for Kink. Let your imaginations run wild. Just don't forget the safeword. What was it again?
There's much, much more, of course, seminars and demonstrations and meet 'n' greets with Miss Monique, and yes, plenty of tables selling sexual aids of all types. Some favourites from names alone: Sex Butter Canada and Maple Leaf Fudge. Insert bad joke here.
Tickets to Taboo, Naughty … But Nice are $10 for single day entry or $25 for the whole thing, available online here.