Don we now our gay apparel – in Darrin Hagen's new comedy With Bells On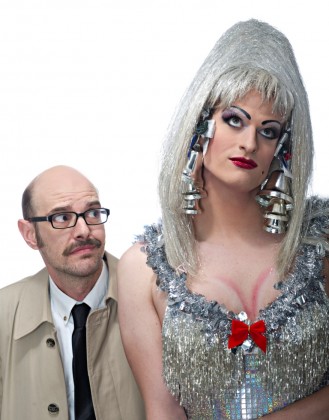 Most guys don't start their day expecting to be trapped in an elevator with a giant transvestite – nor realize that he and "she" are not so different after all.
That's the premise of Darrin Hagen's new play With Bells On, opening Tuesday at the Roxy Theatre. It's based on a real life experience – of being a drag queen at large.
Double entendre pun intended! Edmonton's most famous cross-dressing entertainer-TV personality-actor-author is also one of our tallest. Darrin stands six foot four without heels. His drag "mother" – from which all drag queens learn their trade since "there is no Drag University" – was likewise a towering figure of he-man-womanhood. Paul Welch, who plays the huge queen in With Bells On, is 6' 7". Edmonton just seems to breed tall transvestites.
"Must be something in the water," Hagen suggests.
Anyway, Hagen was once in West Edmonton Mall's Fantasyland shooting a television show for the Life Channel called Who's On Top, in which he portrayed both a man and a woman, and his clip-on microphone slipped "down into my bra and beyond."
He goes on, "My dress was extremely tight. I tried to grab it but I couldn't, so I looked to my poor sound guy and said, 'sorry, dude, we have to fix this.' He had longer arms than I did. He reached down through the neckline past the boobs and tried to grab it, but he couldn't reach it. And I said, 'sorry, man, I hate to say this, but you're going to have to go from underneath.' And he said, 'uh, maybe we should step into one of the bathrooms to do this?' And I looked at him and I said, 'which one?'"
Yes, both pronouns and public restrooms work against one in the drag entertainment industry. Go into the men's, you might get beaten up. Go into the women's and you might get arrested.
"Hazards of the trade," Hagen says.
The two characters in With Bells On – Ted and Natasha – both live in the same cheap apartment flat and are both going out for a very important night. Ted (played by James Hamilton) is a middle-aged accountant who's slow on the rebound from a nasty divorce and has finally drummed up enough courage to go out on the town. Natasha, meanwhile, is on her way to a very important pageant to elect the next Christmas Queen.
"If you don't win, it can be a pretty Earth-shattering experience," says Hagen, feigning tears. "I'm lucky. I never lost."
As luck would have it, Ted and Natasha share a ride down in the elevator, which gets stuck, so what might've been an awkward 30 seconds turns into an awkward hour. While the playwright says he enjoys setting up the physical twist with the giant drag queen and the short straight man, "They realize they have a lot more common than they think. It's fun to illustrate differences for comic purposes, but we're all more similar than we think we are, even people who look very different. We all have a common experience. We all want to be loved, we all want to be happy, we all want to move forward in our lives and we all want to be successful."
For a fuller insight into the motivations of a drag queen, Hagen suggests you read his book The Edmonton Queen, which he says is being studied on college campuses across Canada. Drag is nothing new. Shakespeare used male actors dressed as women because women weren't allowed on stage. A lot of it was tragedy. Comedy came later.
"What I'm doing is no different than what Harvey Korman did on the Carol Burnett Show or Flip Wilson did with Geraldine," Hagen says. "But it's different now. It stops being about laughing at me and starts being about laughing with me as gay men started putting it out there as an art form. People like Harvey Korman were straight guys lampooning females. But as gay men started coming forward and grabbing that art form back for themselves, it became a much more nuanced art form. It's not always funny. But for me, I've always found it to be a great source or entertainment and laughter."
Of the gay icons such as Joan Crawford, Judy Garland and others that seem to be such popular subjects for female impersonation, Hagen explains the appeal, "They were leading the lives that gay men wanted to live. They had power, they were getting what they wanted, they were working in a world of men that they weren't actually included in, they were achieving great things, artistically, economically, they were rich, they were powerful and they got any man they wanted. What gay man doesn't want a life like that?"