Heaviest winter on record as Deep Purple comes to Edmonton Feb. 21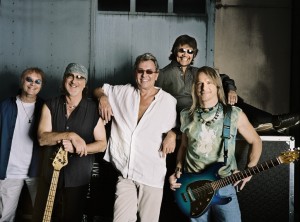 Slowhand Walter, fire in this guy?
No, it's just one of the most famous misheard lyrics from one of the most famous rock classics ever pressed into service – Smoke on the Water – and soon we'll get a chance to mishear it again live when Deep Purple comes to Rexall Place on Tuesday, Feb. 21.Tickets are $77 to $97 and go on sale Saturday, Dec. 3.
It's part of the venerable British band's "Smoke on the Nation" tour shoveling a large swath through Canada on a late-winter stint that the promoter calls a "flurry" of performances in "the heaviest winter on record." Nice.
Fans know well Deep Purple is no one-hit wonder, but a seminal force in the shape of heavy metal as we know it today. With Lazy and Highway Star to add to the legacy of misheard Deep Purple rock classics, the band's boogie-woogie stomp on steroids powered by shredding guitars and honking Hammonds resonates around the world. As you read this, Smoke on the Water is being banged out in garages across the realm by rockers young and old. So yeah, you could say it holds up nicely. Only a select few bands deserve "classic rock" status and Deep Purple is one of them.
Just one last formality: The question of WHO'S IN THE BAND that must be asked with every classic rock event. Drummer Ian Paice is technically the only original member, but THIS version of the band – with singer Ian Gillan, guitarist Steve Morse and bassist Roger Glover – has been around longer than the ORIGINAL version. The list of former Deep Purple members is an essay in itself (keyboardist Don Airey joined in 2001). This happens more and more with every year that goes by. Time has a way of separating the men from the boys, well, grandpas, anyway.