MUSIC: Polkadot Cadaver straddles line between gloom and comedy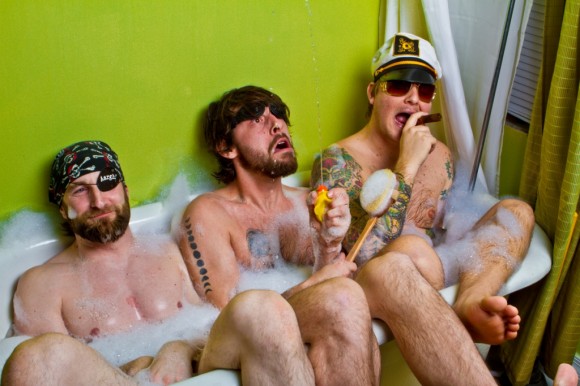 Don't let them scare you.
Polkadot Cadaver's eccentric mash-up of rock, metal, dance, polka and everything in between is accompanied by some downright twisted lyrics that sometimes make strangers apprehensive about approaching the band.
Take the chorus of lovably eerie ballad Chloroform Girl, for instance, on which singer Todd Smith croons, "It's been three years since you've seen the sunlight but I know you're having fun; bound, gagged and chained up in my basement."
It's not exactly something you'd serenade your girlfriend with on a first date.
"Once people get to know us, they know that we're not these sadomasochistic serial killer, pissed off, twisted, dark, troubled people. We're just goofy. We're just silly little boys," Smith says. "When I'm actually consciously listening on stage to what I'm saying, because I don't take it seriously, it never seems over-the-top twisted or demented. It's like anything in art – there's a certain book that will have themes that may be dark and twisted, but that doesn't necessarily reflect on the person who created it."
Polkadot Cadaver will be the odd band out at the Pawn Shop Thursday on a folk-metal bill that features Arkona, Forged in Flame, local act Samandriel, and super fun Finnish headliners Korpiklaani. Tickets here.
The Maryland band rose from the ashes of Dog Fashion Disco in 2007 and recorded its debut "Purgatory Dance Party" in a matter of months, which turned out to be one of the most interesting, twisted and inexorably catchy albums to shake the hard rock world in years. The album and its powerfully melodic but less chaotic successor "Sex Offender" are riddled with dark humor.
The uneasy balance of gloom and comedy is a line Smith is happy to straddle.
"We don't take ourselves too seriously, so that's why we pose in a bathtub with rubber duckies and sailor hats on," Smith says. "It's good to have that balance. I guess that's just a reflection of us as people."
The band's current tour got off to a rough start when its van was broken into at a gated practice facility in Baltimore. The guys didn't open the trailer again until they reached Albany, at which point they realized they were missing three bass guitars and a pile of drum equipment. With the help of fan donations all cylinders are now firing, and Smith says Polkadot Cadaver has been received warmly by the folk-metal crowds so far.
Always keeping busy, Smith will release an album with his other band Knives Out! in January on Polkadot Cadaver's label, Razor to Wrist Records, and will continue to work on his acoustically-driven solo project El Creepo! as well as a Dog Fashion Disco acoustic album, which will put a "mellow, lounge-y" spin on tracks from DFD's 11-year career.
All the while, the guys are already working on more Polkadot Cadaver material to pull the band in strange new directions.
"Dynamics is, I think, one of the strong points in this band. There's a lot of dynamics. At one point the music could be very intense and then drop down to almost nothing but a vocal and one guitar line," Smith says. "There's really no rhyme or reason to any of it. If it sounds good, you go with it, if it sounds like shit or you're uninspired by it then you leave it alone."