THEATRE: New couple cooped up in The Survival of Pigeons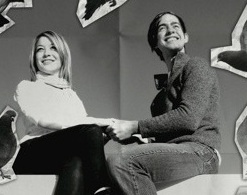 Nothing tests a love affair like moving in together.
Just ask the characters in Surreal Soreal Theatre's new play "The Survival of Pigeons As Studied By Human Lovers," opening Thursday at the Varscona Theatre.
"The play really speaks to moving in with another person and the deepening of that relationship as you discover who they really are," says director Vincent Forcier. In short, "Moving in with a person can break up any relationship."
The story follows two lovers, Alex (Colin Matty), a bike courier, and Anna (Kyla Shinkewski), a young professional. As the couple move into their new high-rise apartment, they are suddenly plagued by pigeons which unexpectedly show up on their balcony. The flying pests only help to expose a universal irony about love and become the catalyst that begs the question: do these young lovers actually love each other?
"The show really plays off the fact that the pigeons are instinctual and survive through those instincts," says Forcier, "whereas humans consider themselves as having higher mental abilities, but basically create problems for themselves. We don't find an appealing mate just to make babies."
Working as a creative duo, Forcier and playwright Jon Lachlan Stewart have been moving into the Edmonton theatre scene over the last seven years – after they first premiered with Forcier directing Stewart's one man show "Little Room" in 2004. Since then, the pair has gone on to create theatre in various ways, with Stewart writing and Forcier directing, but they have also swapped roles numerous times. Their versatility speaks to the need of a theatre artist to be multidisciplinary if they want to persist.
At the 2010 Fringe they once again returned to their director/playwright rapport and premiered The Survival of Pigeons to rave reviews. Surreal Soreal was nominated for 10 Sterling Awards after last year's inaugural season, winning two of them for Dog (outstanding independent production and outstanding musical score by Dave Clarke).
"We started this from scratch," Forcier says, "so I would compare it to cooking. You can start with pre-made ingredients, or you can make your own sauce from scratch. It takes twice as long and way more effort, but it tastes so much better in the end because you put your blood and sweat in there." He adds with a laugh, "figuratively speaking."