Memorial sculpture unveiled: Open the door to end homelessness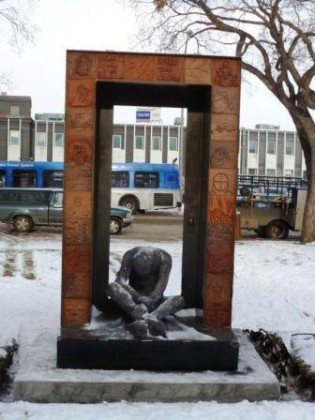 The hope to end homelessness is set in stone with the dedication of a $40,000 memorial sculpture in downtown Edmonton.
Depicting a wretched figure huddling beneath a doorway, it's there "to remind Edmontonians always about our shared responsibility to end homelessness," says renowned local anti-poverty crusader Jim Gurnett, who spearheaded the project created by local sculptors Keith Turnbull and Ritchie Velthius. The piece was installed in the small park off 103A Avenue just North of City Hall.
"We've often been troubled that the people who tend to be homeless, they're the invisible people," Gurnett says. "We forget that. We don't see them in our city. There needed to some way to remind us that they, too, are human beings that are part of our lives together."
For anyone who might suggest that the 40 grand (which came from the Edmonton Arts Council's Public Arts Grant Program) might be better spent directly on the homeless, consider that this thing is going to last forever, raising a lot of awareness with a visceral piece of artwork located in a place frequented by actual homeless people. Consider the $600,000 spent on the Talus Dome that inspires awareness of nothing but bewilderment and outrage. And this is all besides the idea you can't get rid of homelessness by giving money to homeless people. There are a myriad of deeper reasons for homelessness, Gurnett says, including mental illness, alcoholism, addiction or just poverty. One of the best answers to the problem is more affordable housing, as the vacancy rates for Edmonton's least expensive rental units "are around zero."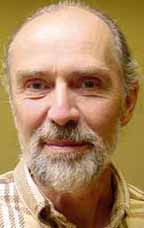 It's not easy to count homeless people, but "an attempt is made every couple of years," Gurnett says. The current number is around 2,500, he says, actually down from the last count. Much more troubling is the number of people who die every year as a direct result of being homeless – whether from severely neglected health or murder – about 40 in the last year alone. The Edmonton Coalition on Housing and Homelessness (ECOHH) holds a memorial service every year for the families and friends of the victims.
"It affects you personally," Gurnett says. "You realize these are human beings and in most cases it's completely unnecessary that they've died. It's pretty heartbreaking."
The "door frame" part of the sculpture, festooned with tiles depicting reasons why having a home important, which were made by local artists who have personally experienced being homeless, is symbolic "that all of us can help open the door to end this problem," Gurnett says. "Ending homelessness is a community responsibility."