GIGGLE CITY: Don't tell Joan Rivers what's funny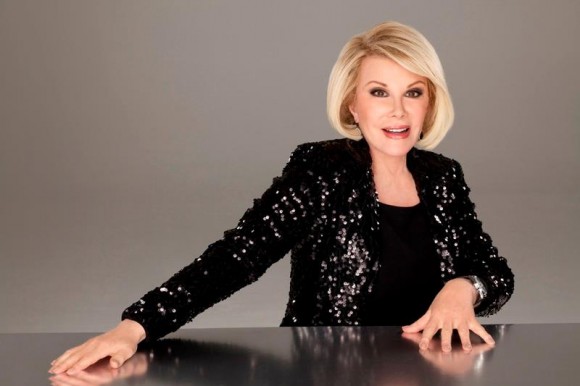 Can we talk? No! Because we never got an interview with Joan Rivers. But does that stop us from having the legendary 78-year-old comedienne as our special guest star in another fascinating Giggle City expose? It does not!
Rivers, who proved her status as the queen of insult comedy at the Jubilee Auditorium on Tuesday, has answered similar questions from countless reporters over the years. Close enough for rock 'n' roll.
(Adult content below.)
Q: If you could be any (other) celebrity, who would it be and why?
A: [Jewish Chronicle, Oct. 2010]: "Her role-model in her quest to tread the boards into her 80s and beyond is another Jewish comedian, the legendary George Burns, who performed as a nonagenarian. Rivers would love to be a female, surgically enhanced version of him. 'How lucky he was,' she reflects. 'Here was a man who was doing what he loved until he died at 100.'"
Q: Best heckler story?
A: [From 2010 documentary Joan Rivers: A Piece of Work]. An audience member in Wisconsin takes offense to Joan's joke: "I hate children. The only child that I think I would've liked ever is Helen Keller, because she didn't talk."
An angry heckler pipes up, "It's not very funny if you have a deaf son."
Joan comes back: "Oh, you stupid ass! Let me tell you what comedy is about."
Heckler: "Don't tell me what comedy is about."
Joan: "Oh, please, you are so fucking stupid. Comedy is to make everybody laugh at everything and deal with things, you idiot. My mother is deaf, you stupid son of a bitch. Don't tell me. And just in case you can hear me in the hallway, I lived for nine years with a man with one leg, OK? You asshole! And we're going to talk about what it's like to have a man with one leg, who lost it in World War II and never went back to get it because that's fucking littering! So don't tell me what's funny!"
Q: Do you have a joke you were sad to let go of?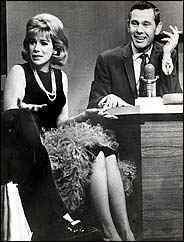 A: [From Piece of Work, scene of her filing through all her old jokes] "Here's one: Why would a woman cook? So her husband can say, 'My wife makes a delicious cake' to some hooker? And you wonder why I'm still working at this age."
Q: Do you have new material that's killing?
A: [Letterman, Jan 2011]: Kate Gosselin got me crazy … Every time they swung her around on Dancing with the Stars I was scared three more kids would come out … if terrorists are around, we can all just hide in her uterus and we're safe … there's room for all of us … My vagina is like Newark … Men know it's there, but they don't want to visit."
Q: Do you give your daughter advice on parenting? (The closest we could find to the "difference between kids today and when you were a kid" question.)
A: [Grandparents.com, April 2009]: "Are you out of your mind? You don't give your daughter any advice. They don't want any advice from you. I give her love and approval."
Q: Do you have to be a pessimist to be a good comedian?
A: [The Onion AV Club, June 2010]: "I think anyone who's perfectly happy isn't particularly funny. And when you're very, very happy, you're not very funny. You're just happy. I'd rather be damaged and funny because I've been laughing for 76 years."
Q: Do you think comedians have the right to talk about whatever they like?
A: [Time Out, London UK, June 2009]: "Yes. I put everything I think is funny in the act, and I think a lot of really sick things are funny. Bill Cosby once said to me that if only one per cent of the world's population thinks you're funny, you'll fill stadiums for the rest of your life, so don't worry about the other 99 per cent. I always think about that when I do a Helen Keller joke or a really bad taste Anne Frank one."
Q: Do comics steal from each other all the time or is there a code?
A: [Comedy Central Roast of Joan Rivers, Aug. 2009]: Joan talking to Kathy Griffin: "You are a thief. You stole my act, you stole my gays and you stole the face of the Burger King."
Q: What makes you laugh?
A: [NPR, Jan. 2009]: "What makes me laugh is, of course, the absurd. The horror. Anything that upsets me. I talk about how I hate children because I love children. I reverse a lot of stuff."
Q: What will be your last words?
A: [Esquire, Dec 2011]: "But it was a joke. Put down the gun! It was a joke! Arrgh!"