First Cats, now Puscifer – Maynard James Keenan's new thing hits the Jube March 10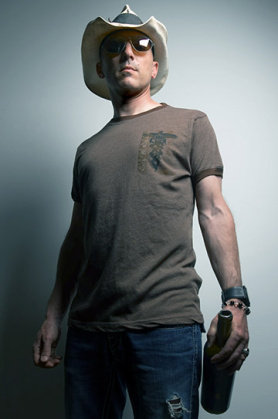 On the heels of the announcement of Cats at the Jubilee Auditorium comes news of another apparently feline-related act coming to that same building on Saturday, March 10 – Puscifer.
What are the odds?
And who named the band, you ask? It's just Tool's Maynard James Keenan up to some new tricks, that's all. Puscifer is the name of his new thing, described as "an eclectic music-meets-comedy troupe." After the release of their debut album, Conditions of My Parole, and a special Halloween performance on Letterman, Keenan is taking the schtick on the road. Tickets to the show are $29.50 or $45 and go on sale Friday, Dec. 16 at Ticketmaster.
Tool of course is known as one of the darkest metal bands to explode into mass culture in the early '90s, an outrageous antidote to the grunge rock revolution; Keenan's next band A Perfect Circle was likewise elevated almost instantly to cult status. And now humour? Well, it's mainly music, but expect some pre-recorded skits featuring Keenan's new alter-ego, known as Major Douche. This, unlike Cats, is not expected to be wholesome family entertainment.