REVIEW: Hroses is senseless, pretentious theatre at its worst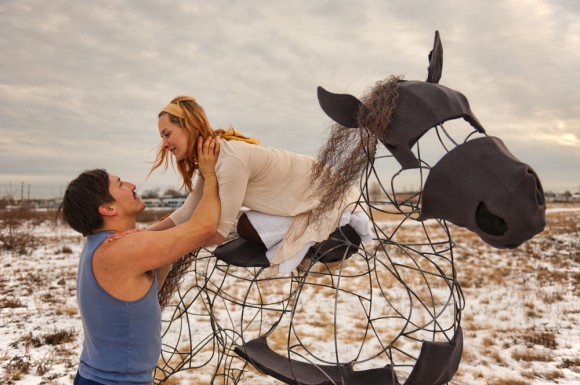 If ever there was a title of a play to describe the contents within, Hroses: An Affront to Reason is it. Of course, if you enjoy shows that are a total affront to your sense of reason, stop reading this review right now and go see this play. The Azimuth Theatre production runs through Dec. 18 in the PCL Studio at the Transalta Arts Barns.
However, if you enjoy cogent stories and characters worthy of your empathy, stay away. Read on and heed the warning.
At the top of the show, actor Sheldon Elter languidly makes his way on stage, nanometre by nanometre for his entrance – a lyrical harbinger for the constant ennui to come.
Ellery (Elter) and Lily (Kristi Gunther-Hansen) meet in a cornfield which is occupied by a horse. They introduce themselves to one another, although it becomes quite clear after a while that the two have a history. Or is Lily really someone named Susan? The facts aren't clear. Nothing in this play is clear. That must be a big part of the baggage when people insist on affronting reason. Ellery claims that he comes from family of rapists. If this is true, his family reunions must be akin to sitting through this.
Seriously, it was like watching a version of Wuthering Heights where the passion waxed and waned at its own desire and delight. Every so often, playwright Jill Connell had Ellery and Lily (Susan?) engage in dirty talk in an attempt to awaken the audience, but the result is purely puerile: It's like watching a two-year-old trying to seduce his nanny. The very worst was the constant straining of the text to be poetic. The end blackout does not come as a result of plot resolve, or any moment of epiphany from the characters. The ending simply comes by the sheer fact that the hour has run its course.
The preview performance seen on Thursday night had an English class on a field trip in the audience. It is my fear that this was the first play seen by many of them. If this is true, I am begging them to give theatre another chance. If anything, Hroses gives credence to the theory spun by many a conservative pundit: that theatre is elitist, pretentious and intellectually inaccessible to the masses and – ergo – not worthy of government funding. I beg you again: give theatre another chance.