INTERVIEW: Ruben Studdard reflects on post-Idol life, Singing Christmas Tree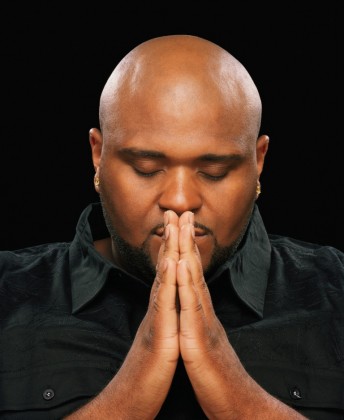 It's not every day an American Idol winner turns up performing with a Singing Christmas Tree in Edmonton – but this is no ordinary Singing Christmas Tree.
Nor is Ruben Studdard an ordinary American Idol winner. Here's a funny twist: At the Jubilee Auditorium Friday through Sunday, this annual Christmas event (featuring a festively-garbed choir on risers that look like a giant Christmas tree) has moved away from its "churchy" origins to a more "Vegas-style Broadway" show, according to producers, or maybe it's the other way around. The special guest star, meanwhile, was RAISED in the church. He gratefully credits God for making him a star, and says he remembers from the age of 11 "being on my knees praying to ask God for this opportunity."
Oh, yes, Christ will definitely be in Christmas at this gig. You wanna argue with the Velvet Teddy Bear?
Planning an evening of soul-ified Christmas classics, Studdard says he's happy with his post-Idol career. He says, "I've been able to do some spectacular things for a small town boy that nobody ever expected me to do – but I always said I would."
It's been almost nine years and five albums (including one to come in March) since he won the second season of American Idol. Alluding to his own flagging record sales in recent times – and he's certainly not alone here – Studdard says a lot of R&B stars through the ages have had ups and downs depending on whether or not they had hit on the charts at the time.
The Idols are a bit different, of course. Studdard says it himself: "It's going from obscurity to the whole world knowing who you are in the span of six months."
It can't last, and it usually doesn't – except in rare cases like Adam Lambert or Jennifer Hudson, and they didn't even win. Most Idol contestants are simply too inexperienced to maintain that high level of fame that the show gave them, once the first record has run its course, and basically anyone who makes the top 10 is guaranteed a record contract anyway. Once that ends, the Idols are their own. It can be a cold, hard world out there.
Experience is a relative thing, Studdard says. The Birmingham, Alabama-born singer had been working hard for more than  decade trying to catch a break. "None of the usual methods worked," he says, so he tried an unusual method (at the time), which was trying out for American Idol. The baggage that comes with fame in the music business – the travel, having to make a 6 a.m. call for a television appearance or having to be personable to everyone "even if you sometimes don't feel like it" – took some getting used to, he admits. Likewise the various media intrusions into his personal life. But the Velvet Teddy Bear has become good at deflecting questions that make him uncomfortable. In this particular interview, he parries a couple of tactless queries: One concerning his recent divorce and another about whether he's donating his time to do the Singing Christmas Tree after he said, "The most important thing about the holiday season is giving your time and talent to people who are less fortunate." Net proceeds from the shows will be donated to Santa's Anonymous.
Studdard declares himself immune from the opinions of the press: "The most important thing for me was that I always knew who I was as a person. No one's opinion ever shaped who I was. My parents were very validating and made sure I knew I was important, always. So this has been a blessing, but it hasn't shaped who I am. I was shaped by two amazing people who raised me in Birmingham, Alabama."
And, of course, You Know Who.