MUSIC: LMFAO lives up to its name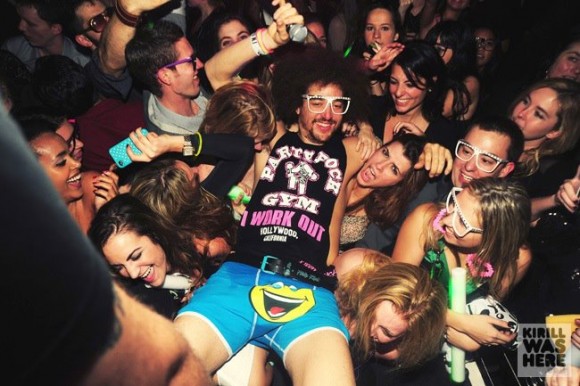 Going into a tilt about the cesspool of immoral behaviour rampant in modern top-40 music, we encounter the curious case of LMFAO. Their name stands for (children, avert your eyes), "Laughing My Fucking Ass Off." This is one band that lives up to its name.
Returning Wednesday to headline Rexall Place (tickets), LMFAO was here in September opening for Ke$ha – and blew her off the stage. Sadly, the trashy pop queen's live show failed to live up to (or down to) her defiant, sexually-aggressive, empowering feminine point-of-view dance-pop songs that wanted nothing more than to drink and have sex with you. Well, good idea. Needs work.
It didn't help that the opening act was so mind-blowing. LMFAO delivered an outrageous and perfectly choreographed song and dance revue that wouldn't have been out of place in Vegas – replete with 12 guys in Speedos doing the Wiggle Man during "Sexy and I Know It." Brought the house down. They tossed giant blow-up animals into the crowd, spewed champagne on people, brought out dancing robots and pandas, inflatable desert islands, you name it. The break dancers were amazing. One of them could do a forward flip and land in a split. Ow. Every song was a "Party Rock Anthem." You could see the amount of work that went into every second on stage. The show was exactly like LMFAO's music videos – huge, colourful dumb fun as if horny clowns had taken over the circus, dance songs about sex, parties or both, with no redeeming lyrical qualities whatsoever. And the problem is?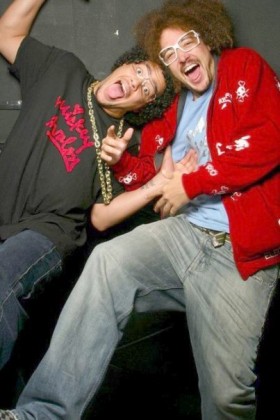 LMFAO inspires comparisons to Sly and the Family Stone, to James Brown in full fettle, to the golden age of R&B. It all comes into focus when you learn that frontman Redfoo, a.k.a. Stefan Kendal Gordy, is the son of Berry Gordy Jr., founder of the Motown record label. Partner Sky Blu, Skyler Husten Gordy, is grandson and Redfoo's nephew. These are no street-wise hip hop artists who came up the hard way. These are rich kids with the Might of Motown at their disposal. Along with a hell of a sense of humour and hit-making genes, they have a keen understanding of the legacy of their chosen field: Sex sells.
Party rock songs of yore are rich with sexual references. There have always been dance songs about dancing. I Feel Good by James Brown is obviously all about orgasms. Why else would a grown man say he feels nice like sugar and spice? Sly and the Family Stone's Thank You (Falettinme Be Mice Elf Agin) has clear sexual overtones: "Stiff all in the collar, fluffy in the face, chit chat chatter tryin', stuffy in the place." OK, bad example. It must've been drugs.
But compare and contrast this: "Party rock is in the house tonight, everybody just have a good time" with this: "Feel the rhythm, check the rhyme, come on along and have a real good time." The latter is Chic's Le Freak from 1978, one fine example of a true "party rock anthem." Eerie, no?
LMFAO's hilarious Sexy and I Know It is another one, a massive hit, remarkable because it is such a blatant parody of the usual boasting bravado seen in hip hop/R&B circles, a mockery of machismo, and ridiculing of the male ego. It is possible to read too much into things like this, but the casting of flabby porn star and walking sight gag Ron Jeremy in the music video is the icing on the cake, and you'll never eat cake again.
Redfoo and Skyblu are not stupid. They are not doing anything half-assed. This is all the way. This is over the top. And it's paid off. LMFAO is in the vanguard of the aforementioned moral cesspool of modern top-40 music.
It's not the sex – it's the drinking. The different between James Brown and Usher, between Tina Turner and Pink, is the amount of booze consumption depicted in the songs. The R&B stars of yore may have drank and partied just as much as the ones today, perhaps more, but they largely kept it out of their music – or maybe that was the record industry's doing, not wishing to offend the public or worse, the government. Not now. Top-40 stars are always raising their glasses, filling up their cups, putting bottles on the ice. One wonders what Berry Gordy Jr (yes, he's still alive), who produced steamy but alcohol-free hits by the likes of Marvin Gaye and the Supremes, thinks of his son's Party Rock Anthem with its plea for "one more shot for us." Even Sexy and I Know It has a line, "We headed for the bar."
Just sayin'. More study is clearly needed – along with a good, stiff drink.