TONIGHT: Piper at the Gates of the Telus World of Science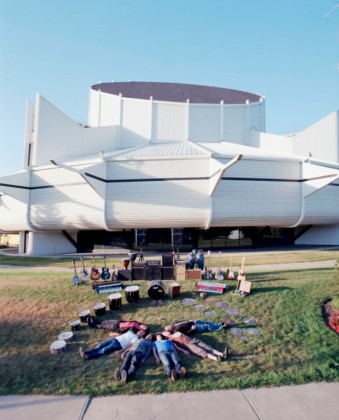 Important disclaimer: local rock band Blue Goat is performing a Pink Floyd tribute inside the star dome at the Telus World of Science on Thursday – both the shortest day and longest night of the year – but you will not hear Another Brick in the Wall, Part 2.
You may not have any pudding. You will not have any meat.
Nor will the band play anything past Obscured By Clouds (1972), because these local neo-hippie-folkie-metalheads are only doing a tribute to the PRE-fame Floyd, one track from each album starting with The Piper at the Gates of Dawn. Expect comparable mind-blowing psychedelic visuals of the sort the Margaret Zeidler Star Theatre is known for – but no hits.
Frontman Danny Jaycock explains, "I believe in the strength of it. I've seen so many Floyd tributes, I've seen Roger Waters. I just love the other Floyd, the older Floyd. I believe these songs aren't getting what they deserve."
Blue Goat, which the singer describes as fusion of heavy metal prog rock and gypsy folk music, seems a throwback to that brief era when albums actually became more than just a product cooked up by record companies to make money. A full-length "record" at the time was a fully realized artistic statement on its own. Jaycock wonders if the Beatles started it with Sgt. Peppers Lonely Hearts Club Band, and notes the concept album trend that followed only yielded one "golden goose," that being Pink Floyd, of course. OK, and maybe Genesis. Curiously, both of those bands needed neither hit singles nor even recognizable faces to become famous. When Floyd's famous hit Another Brick in the Wall went No. 1 around the world in 1979, it practically happened by itself – long after millions of fans had already bought into the band's album-as-art philosophy. Dark Side of the Moon did not top the album sales charts just because of "Money."
Blue Goat seems poised to recreate the past. In addition to the proto-Floyd prog-folk attitude – the labels alone can make your head spin – the musicians have been known to employ masks and puppets or just walk around whanging on garbage cans, Stomp-style. Blue Goat – named as a reaction to Mark Feduk's band Red Ram – came together from members of two local bands Darksand and Sally's Krackers, the former more metal, the latter more folk.
"We're an exact cross between headbangers and hippies," Jaycock says. "But we've been integrating, refining, almost like alchemy, the folky and metal elements to be something cohesive. I have to admit we've confused audiences in the past."
So did Pink Floyd.
Tickets to the 8 p.m. show are $20 at the door.