THEATRE: Newfoundland take on classic tale to warm area hearts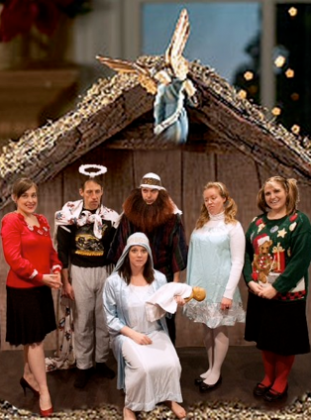 Poised to become a local Christmas "thing" on the order of A Christmas Carol or The Nutcracker or Handel's Messiah or Candy Cane Lane or Peter Pan is play called The Best Little Newfoundland Christmas Pageant Ever!
Playing through Friday at the Varscona Theatre, it is a Newfoundlander's take on the classic Barbara Robinson tale of a misfit family who helps an entire town find the true meaning of Christmas. Oh, yes, your heart will be warmed. And needless to say, Christ will be in Christmas at this show.
Cheryl Jameson, who directs and stars in the play, says, "It's a beautiful little story. There's so much laughter throughout it, and there's a beautiful message about what the true meaning of Christmas is, through a child's eyes."
The children in question are the dreaded Herdmans, a poor family from the wrong side of the tracks, and each is the designated bully in his or her grade. They've never been to church, never read the Bible and have only the foggiest notion of the Christmas story.
"All they know is that Christmas equals getting a food hamper from the Christmas Bureau," says Jameson.
So the Herdmans only show up for the auditions to the annual Christmas pageant because they heard there'd be snacks there. This thing is the same every year, and only hits a snag this particular season when the mom who usually directs it has an unfortunate accident involving a moose – just one of the specifically Newfoundland touches here.
The eldest Herdman sister, Imogen – played by Jameson – who smokes and swears, bullies her way into the role of Mary, much to the displeasure of Alice, the prim and proper girl from the right side of the tracks who usually gets role every year. This pageant will be different – and (spoiler alert) in the end much, much better, according to the gossiping old ladies. Cue heartstrings being plucked followed by warm Christmasy feelings.
Jameson, who lived in St. John's for four years and had a chance to perform in the play, says she fell in love with The Best Little Newfoundland Christmas Pageant Ever. "When I moved back to Edmonton, I said, oh my God, there are so many Newfoundlanders here that won't make it home for Christmas that would love to have a piece of home brought to them. It's a wonderful little show."
The play runs nightly at 7:30 through Friday, Dec. 23 at the Varscona Theatre. Online tickets here or at the door.