2011, REAREND IN VIEW: Women rule concert industry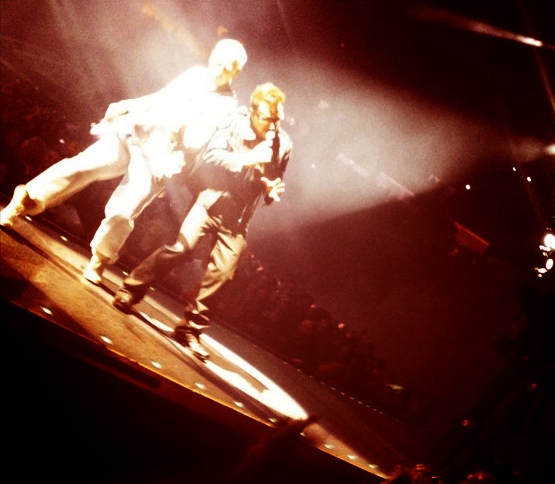 Admit it: Prince sucked.
Oh, don't get your panties in a twist. Someone has to say it. And someone has to respond that a bad concert from Prince is still better than most other concerts. Fine. But if you were there at Rexall Place on Dec. 13, the more you reflect on it, the more you should realize that his Welcome 2 Canada tour was nothing more than a poorly-rehearsed, hastily assembled cash grab larded with unsatisfying medleys and too many singalongs and unnecessary rock star banter in a confused production that wouldn't pass muster in Las Vegas. One fan summed it up, "Kinda meh."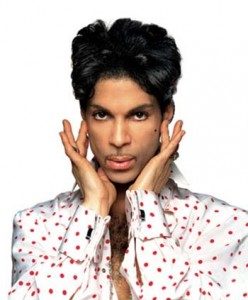 Not acceptable! Not from this guy. Set the bar too high, he did. Cursed us all with high expectations, didn't he? Better luck next time, is all you can say.
So Prince loses the crown for Best Edmonton Concert of 2011. If you're a rock 'n' roll guy, that trophy has to go to U2 – and to the clever techs who put together the world's largest 360 degree HD video screen in Commonwealth Stadium to make them look like GODS. The sound, not so much, but it depends where you stood. Being with 65,000 other people focused on ANYTHING at the same time is amazing. (Photo, top, by Fish Griwkowsky.)
The U2 "Concert of the Decade" is followed closely by Pearl Jam. That was the Concert of Two Decades. For their show here in September, Eddie Vedder and his boys brought with them a wave of early '90s nostalgia (and their documentary film Twenty, which happened to open wide on the same weekend as the Edmonton show). Eddie even showed up to sing Kick Out the Jams with Mudhoney at the New City Legion. Most overheard line among Generation Xers that week: "Jesus, 20 years! How did we get so old?!" The band served up a beautiful concert, though, the ultimate anti-arena rock show. Give Pearl Jam the HD video in the stadium and they'd win this in a walk.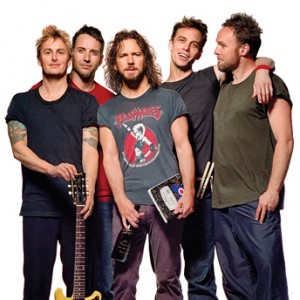 But it's apple and oranges, isn't it? Foo Fighters was great, too, if you're into modern grunge rock that isn't Pearl Jam or Nirvana. Rammstein was amazing, if you're into German techno metal. And Pixies were just swell – when exactly would one have had to go to college to be into this band again? – while you could stick your Kings of Leon and Black Keys and Rise Against and Tragically Hip against one another in a particularly spirited Battle of the Bands. A few bones were thrown to the classic rock crowd: Santana, Tull, the great Jeff Beck, but it was pretty thin pickins' for the greybeards. Less than 4,000 fans showed up to see Roger Daltrey perform the Who's incredibly overrated album Tommy in Rexall Place. It was beyond sad.
The bulk of the Year of Concerts, however, was not aimed at men. Not during the summer. Add up the big draw shows that were attended mainly by women, or screaming girls, anyway – Lil Wayne, Rihanna, Kid Rock, Katy Perry, NKOTBSB (New Kids on the Backstreet Boys), Taylor Swift, Michael Buble, Blink 182, Josh Groban, Ke$ha, Keith Urban, Maroon 5, Avril Lavigne, Selena Gomez, Burton Cummings, Melissa Etheridge – and we see an astounding trend: Chicks bought most of the concert tickets in 2011. They buy most everything else, too.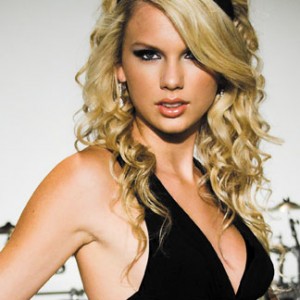 Now consider the message being drilled into these screaming girls. Rihanna is into bondage, Katy Perry can't remember what she did last Friday night, Ke$ha can and that's even scarier, Avril Lavigne wants to steal your boyfriend and Taylor Swift wants to steal your boyfriend but will claw your eyes out you if you try to steal hers. Say what you want about the decline of rock 'n' roll, but most of it isn't half as disturbing as what's heard from female pop stars on top-40 radio.
The best local pop concert may be one that never happened: LMFAO, which was supposed to have performed on Dec. 21 but postponed because Sky Blu threw his back out doing the "wiggle" dance during Sexy and I Know It. Rescheduled for Feb. 6, the group blew Ke$ha off the stage opening for her in September. They sure lived up to their name, which stands for (little girls, avert your eyes): Laughing My Fucking Ass Off.
Now consider the target audiences for upcoming shows: Chicago (Feb. 13), Simple Plan (Feb. 14), Deep Purple (Feb. 21), Lady Antebellum (March 17), Hedley (March 21), Coldplay (April 17), Johnny Reid (April 19), Roger Waters presents The Wall (May 28-29) and Neil Diamond (July 16). Even factoring in high likelihood of Black Sabbath coming to town, it still looks like women are going to be calling most of the shots again next year. So what else is new?