Brian Setzer never strays far from his rockabilly roots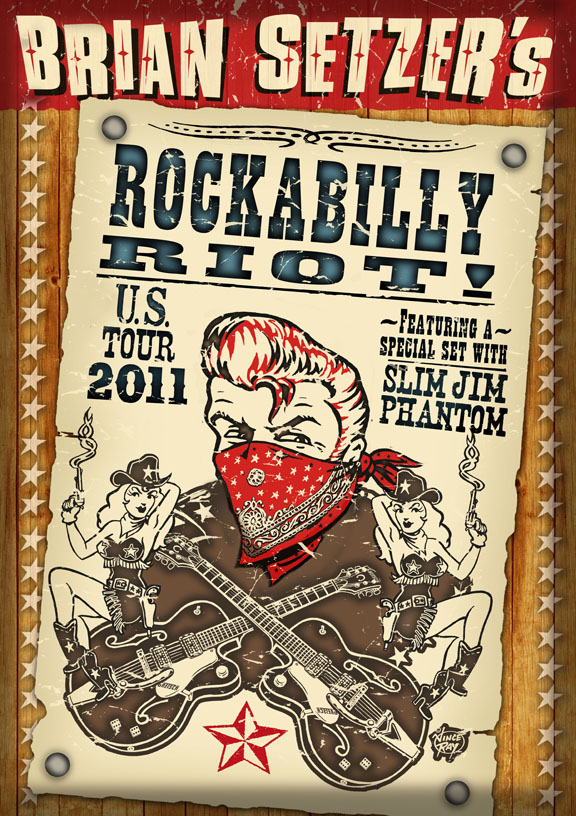 Brian Setzer …. musical legend ?
A case can be made for the rockabilly mainstay and guitar guru, who plays the Edmonton Events Center tonight. (Tickets here, or at the box office.)
You can list on two hands the number of guys who transcend their genre, who aren't just stars, or superstars, but legends. B.B. King in Blues, Sinatra as a crooner, Johnny Cash in country, Elvis in shameless exploitation of another cultu… no, no, we kid, …  in rock; Michael Jackson and, perhaps, Madonna in pop.
And decades from now, there will be one name remembered as the king of rockabilly:
Carl Perkins.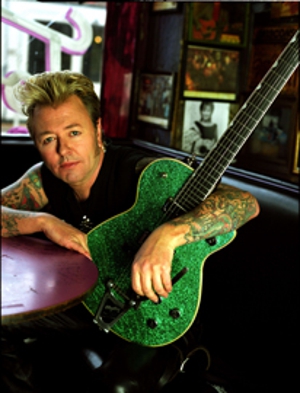 As Buddy Guy is to B.B., however, Setzer is to Perkins (or maybe to the combination of Chet Atkins, Duane Eddy and Perkins, as he embodies elements of all three).
You see, legends don't really have to innovate. They were just the most popular and longest lasting, the first part a complex stew that we don't totally understand and the second part due to their immense talent and reasonably good health. Oh, you have to be good to be a legend. But years after people have forgotten the songwriting and performing genius of Carol King, they'll still remember Madonna. Most people have already forgotten about Freddie King, but without him, Eric Clapton's guitar style basically wouldn't exist. While he invented plenty of legendary licks of his own and is a guitar "legend," Clapton's phrasing was and is utterly dependent on King. Buddy Guy is a legend while Albert Collins' profile grows less widely known daily, yet he was arguably every bit the bluesman Buddy was.
Combine popular and talented then live for seven or eight decades, you wind up with "legend."
So, to anyone who questioned the initial proposal, consider this: Setzer, 52, is just about the only name that mainstream America really associates with rockabilly. This is a crying damn shame, of course, just as it's a crying damn shame most non-adherents can't name four or five more blues guys. But that's pop culture for you.
Still, he's holding up his end of the bargain. This tour has been dubbed "Brian Setzer's Rockabilly Riot," as he told Guitar Aficionado in a wide-ranging October interview. "The Rockabilly Riot is three bands in one that covers my whole career It has two standup bass players, two drummers, piano, and me. We aren't all on the stage at the same time until the end. I want to have two guys standing on their basses trading licks. I think that would be cool, and I don't think that's been done. I want to have a real rockabilly riot at the end."
Sinatra didn't invent crooning. He borrowed his vocal arrangements from horn sections and his technique from Bing Crosby, Rudy Vallee and Louis Armstrong. It was a dynamite mix, but without his charm and character – and his late resurrection as an actor, in particular – it wouldn't have happened. Setzer didn't innovate either. He's the world's second-best known rockabilly singer because he had number one hits with Stray Cats, and then eked his way into the American family consciousness by helping make swing music popular again with his orchestra via Christmas albums and some snappy retreads of old 50s classics. He knows where he stands, a great player who's had a great run.
"Deep down I'm a rockabilly cat, but I jump in all these different directions, as cats will do. Looking back over the last 30 years, I'm very lucky. Not many people go that long. They burn out or just end being forgotten about. I'm very grateful."
Now, all he has to do is survive for another decade, so that he's into his 60s and … bingo, he's a rockabilly legend. Which means one day, some of us who miss his show here will be lying about it and telling everyone we were there. We might even throw in a Carl Perkins anecdote or two to try and make it sound genuine.