METAL: Striker at the gates of gone
Posted on December 28, 2011 By Kevin Maimann Front Slider, Music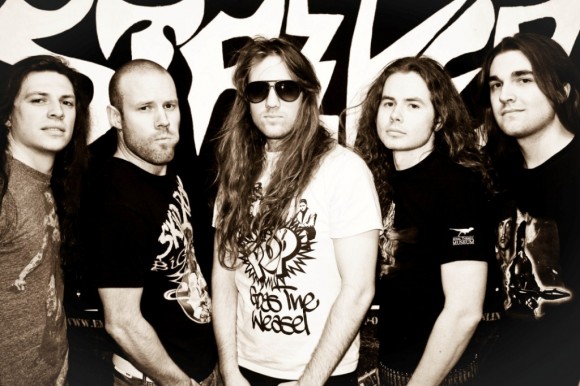 When faced with going big or going home, Striker will always choose the former.
The Edmonton metal band has earned most of its success thousands of miles away. The group just returned from Nashville where it recorded its second album with renowned metal producer Michael Wagener, who was at the helm for such classic albums as Ozzy Osbourne's No More Tears and Metallica's Master of Puppets. The weeks-long recording process was a pricey undertaking, but guitarist Chris Segger hopes it will pay off.
"Going in and working with someone who has produced albums that have sold just under 100 million copies, and going in there as next to no one, we weren't sure what to expect. But he was amazing to work with," Segger says. "As a guitar player, I probably learned more from him – who doesn't really play any instruments – than I ever did from any musician or guitar teacher."
Striker will headline a New Year's Eve party at Haven Social Club with opening acts Eternal Prophecy and Lockdown this weekend (tickets here).
The technically proficient thrash/power/hair metal band had a massive year in 2011 – mainly in Europe. After making its mark on the European metal scene with its 2010 debut album "Eyes in the Night," released on German label Iron Kodex, Striker made two successful Eurotrips in 2011 with a cross-Canada tour sandwiched in between.
"It was awesome. Actually sometimes it was even a bit overwhelming. There were places that we never expected the crowds that we got," Segger says of his band's European shows, adding his favourite gig this year was in Madrid, Spain.
"We were booked to play there the year before, and when we had to cancel the tour, it seems like it created more of a buzz, especially in that area. We got e-mailed about a week and a half before the show from the promoter, and he said, 'This never happens, but the show is already completely sold out in advance.'
"We went down and they were singing the words, they were singing guitar melodies, they were being louder than us sometimes. That was probably the best experience we've had playing live."
The band's deal with Iron Kodex expired late last year, and Striker is now entertaining offers from about 10 different labels interested in releasing their sophomore effort, title TBA, which the quintet hopes to unleash in April 2012.
Striker has its eyes set on more European dates next year, with a February/March jaunt lined up alongside Toronto's retro-metal favourites Cauldron. Unfortunately for us back home, the band has already found more enthusiastic crowds overseas, as well as a stronger metal scene and a simpler traveling landscape.
"In Canada, if you're going to go from Edmonton west, your next major stop is Vancouver, where that would take you across the entire country of Germany and into the next one over with 30 places to stop in between," Segger says.
Always looking to the future, the master axe-slinger says Striker has 60 per cent of its third album written, even though the band just got the artwork for the sophomore effort.
"I wouldn't be surprised if the whole next album was written before this one was even released," Segger says. "We're already as excited, if not more, about the next step than we are about this one."