Metropolis lights up city without burning taxpayers
You have to hand it to the folks behind Metropolis, Edmonton's newest festival (three words we seem to use every other week these days.)
Organizer Guiseppe Albi wanted $1-million to stage the two-month long celebration, which kicks off with the New Year's Eve festivities in Churchill Square, with fireworks at midnight, and features music, food, talents and crafts each weekend through February.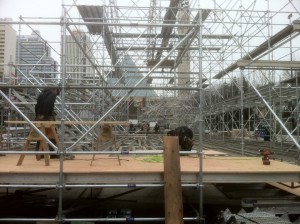 He envisioned a bold new take on a festival: unique outdoor pavilions designed by top architects and featuring multimedia sound and light, where people can warm up (at a balmy 10 C) while not partaking in social activities in the square.
The city balked. (Yes, the same city that basically underwrote Daryl Katz's life for the next 10 years, but we digress….).
First, it suggested he see how much could be done for free, or from the existing city events budget. Then it coughed up $150,000 instead.
Albi, who calls the festival a "truly made for Edmonton event" and "a dream come true," had to settle in the end for a budget of … $1.2 million. Thanks to the formidable fundraising efforts of organizers and volunteers, most of the money is coming from a massive sponsor list, including a wide swath of the local construction industry.
If nothing else, he's proven what the community can do WITHOUT relying on taxpayers to foot the bulk of the bill, while still providing a fun and fascinating new attraction to the list of local activities. The event still needs some volunteer support – always tougher to get done when there's cold weather involved – but looks well on its way to showing its worth. There are wrinkles – the event's terrible website, poorly updated and riddled with embarrassing typos, certainly doesn't bode particularly well – but nothing so far that looks deal-breaking.
The event focuses on family activities, including a children's events stage with a full slate already throughout the two months. Metropolis also features a "Taste of Winter" pavilion similar to a taste of Edmonton, skating on the city hall pool, a huge slate of bands starting at 7 p.m. on opening night and more.
Metropolis, Edmonton's International Winter Festival, runs Fridays from 4 p.m. to 10 p.m. and weekends from noon to 10 p.m., until Feb. 19, downtown in Sir Winston Churchill Square.