Winter festival season heats up with Deep Freeze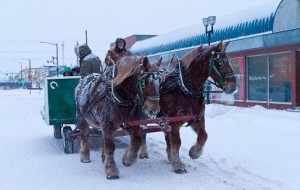 OK, now we have too many winter festivals.
Between Metropolis, Winter Light, Silver Skate, Ice on Whyte and other assorted subzero carnivals stretching over the desolate months with nothing much else going on in the most Northern metropolis in the world with the highest murder rate in Canada … scratch that lead. Edmonton doesn't have enough winter festivals.
The Deep Freeze Byzantine Festival, happening Saturday and Sunday at the Alberta Avenue Community League and its 118th Avenue environs, was a leader in the field of frozen festivals.
"It seems we've started a trend," says producer Christy Morin, especially after the five-year-old event celebrating creative anachronisms of culture, arts and winter sport drew a whopping 14,000 people in 2010. Last year only a fraction of that crowd braved the giant blizzard that hit on opening day to partake of the free skating, snowshoeing, sledding, sleigh rides, snow sculpting, ice sculpture contest, live entertainment, medieval minstrelsy, crafts, games, and assorted ethnic delicacies Deep Freeze offers. Even free hot chocolate and warm-up tents weren't enough to draw more than 5,000 people. This was another outdoor festival scuttled by bad weather in Edmonton. But that's the whole point, isn't it? Hello! It's called Deep Freeze.
"We were ready for it, but we weren't ready for the biggest snowfall in history," Morin says. "It almost felt like back in the 1950s: People in full winter regalia walking down the middle of  street pulling kids on toboggans. It was beautiful."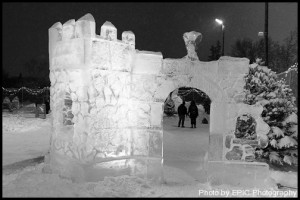 This year, organizers are adding an 18-person hot tub inside an ice castle, workshops for "commoners" to learn the craft of "Mummery" – a form of medieval street theatre – Deep Freezer races (yes, actual freezers on skis) and Saturday night dance with live '50s surf rock music courtesy of the "Tsunami Brothers." Morin reminds us that Jan. 7 is Ukrainian Christmas, which is definitely a good reason to "continue celebrating the New Year." Yes, there will be perogies.
Also beautiful is how the Alberta Avenue revitalization program is coming along – the Old Strathcona-zation of an entire district once notorious for prostitution. All you have to do is walk down the streets, Morin says.
"To me an indicator is looking at all the Christmas lights, whereas 10 years ago if you saw one every few blocks you were lucky."
Admission to Deep Freeze events is free, except for the $15 tickets for the Saturday night dance, available at the door.