From Nashville to Edmonton, The Frolics are Ripe for success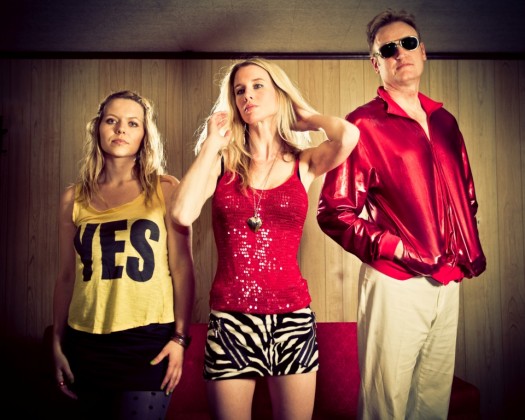 Edmonton music fans have heard the sad story too many times: a hard-working local band builds a strong buzz, wins our hearts, garners national acclaim … and then skips town.
Rapper and ex-poet laureate Cadence Weapon left for fresh waters in Montreal, Christian Hansen and the Autistics took off to Toronto, songstress Wendy McNeill is all the way in Stockholm, Sweden, and that's just the tip of the iceberg.
That's why it's so comforting that surf-punk rockers The Frolics have done pretty much the opposite. The Frolics began in renowned musical hotspot Nashville, Tennesse, and actually moved to Edmonton three years back, where they are quickly becoming a success story.
Fresh off a New Year's gig at Brittany's Lounge replete with burlesque and go-go dancers, the trio will play a free afternoon show Saturday at Filthy McNasty's Pub, taking the stage at 5 p.m. after Sermon on the Mountain.
Husband-and-wife team Amy (bass and vocals) and Scott Fralick (guitar) met in Seattle and formed The Frolics in Nashville in 2007, along with a rabble-rousing drummer who was constantly in and out of jail. The trio drew on bands like The Ventures, The Cramps and Johnny Cash to forge its edgy old-school sound.
When Scott, who was born here, received an offer for his current TV reporter job with CBC Edmonton in 2008, Amy bravely accompanied him on his journey back to the Great White North. Unlike many native Edmontonians, the frontwoman doesn't care to complain about the cold and displays a genuine affection for Alberta's capital.
"It's a great arts and music scene. I was quite surprised by that. Edmonton's really been good to us, really supportive of what we're doing," she says. "Nashville is also awesome, but it's more for country music. Our kind of music, not so much."
One member – drummer Jeff Emsley – did leave the city to pursue new music in England, but the Frolics scooped up Ali Dayton, a diverse young drummer who joined the band in April.
Things have taken off in recent months since the Frolics were named Sonic 102.9 FM's September Band of the Month for their single Ripe, the title track from their sophomore album. The honour has led to piles of shows, an appearance on City TV's Breakfast Television, and much wider recognition around town.
"It was pretty awesome. Being on the radio really does make a difference," Fralick says, adding her band has also gotten plenty of love from campus station CJSR 88.5 FM.
The Frolics aim to incorporate more modern rock and pop sounds on their third album, due this spring, which will be their first with Dayton behind the kit.
"Having Ali in the band gives it a different edge," Fralick says. "There's more dynamic and more feel to the music because she brings a lot with her drumming and she knows a lot of different styles."
Saturday's gig will be a sendoff for the trio's trip to Nashville to record the new album with producer Eric Fritsch, who was also at the helm for the first two Frolics releases. Don't worry, though – they'll only be down there for two weeks, and they already have several Edmonton shows lined up for early 2012. We can't expect The Frolics to stay here forever; they're on the hunt for a record deal and they've got the chops and the looks to get one. But at least for the time being, we can enjoy their red-hot rock 'n' roll and thumb our noses at Nashville for once.