Van Halen coming to Edmonton May 11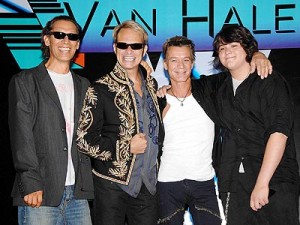 Van Halen is coming to Edmonton this spring, as predicted. The reunited band announced dates on its official website on Thursday for its 2012 tour, which includes Rexall Place on Friday, May 11 with opening act Kool and the Gang.
The announcement was made on the heels of an intimate and interactive gig in New York City Thursday night, with these words from manic frontman David Lee Roth, "Welcome to Occupy Van Halen, ladies and gentleman!"
The band – which recovered from the deadly Lead Singer Disease several years ago with the re-reunion with Roth – are occupying all of its proven markets in North America behind a new studio album set for release on Feb. 7, A Different Kind of Truth, which will feature Eddie's son Wolfgang for the first time. The first single from same, Tattoo, is going to radio shortly.
The last show here in 2007 managed to recapture all the old magic for more than 12,000 fans. They even played most of the same songs they did in the 80s – Panama, Hot For Teacher, the sort of joyous material that can cause instant regression to teenage years for any fan old enough. Better if you're already a teenager who happens to be into the band. It's a new generation of classic rock from The Band That Just Won't Die!
Tickets will go on sale Jan. 14.