Great Lake Swimmers to play Edmonton May 6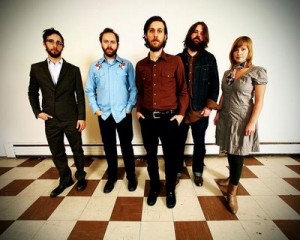 Lost in the big news of the Black Keys concert this morning was another tour announcement by an extraordinary live band out of Toronto – Great Lake Swimmers.
The folk rock quintet is set to perform at a popular local venue of late, the McDougall United Church, on May 6 as part of a cross-Canada tour supporting its new album, New Wild Everywhere. Out April 3, the record's 13 tracks tracks "thematically pick up where the previous album left off, exploring transcendence in the natural world," according to a press release.  A huge fan favorite across the country, including here in Edmonton, the band won a Canadian Indie Award in 2010 for Favourite Folk/Roots Artist/Group.
With the same producer as their last album – Andy Magoffin – the band adds a remarkable stage presence to its live show, making this gig one that should be added to the calendar of any live music fan. With the McDougall in Edmonton one of only two churches on the tour itinerary, the show should capture the luscious tones and vocals that the band is famous for. If you saw Dan Mangan at the same venue in November, you'll know how incredibly rich the sound inside is.
Tickets to the show are $25 and go on sale Thursday at 10 a.m.