FROZEN FESTIVAL: Ice on Whyte to be the Works of the Winter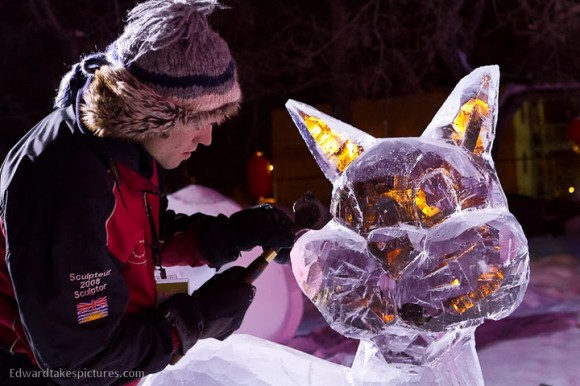 Winter in Edmonton is becoming a frozen funhouse mirror of the summer festival season – so that must make the Ice on Whyte Festival the "Works of the Winter."
Opening Friday at the rarely-used End of Steel Park (that chunk of land with the stranded CN caboose across the street from the Yardbird Suite), the 10 day celebration of icy artistry will have all the basic necessities of a winter festival in Edmonton – like somewhere you can go inside to warm up. A large, heated tent on site features live entertainment every night. Also, there must be skating. An ice slide would be nice. And you can't call yourself a winter festival without hot chocolate.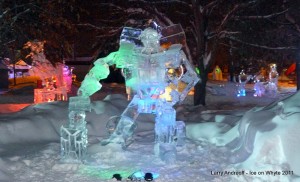 But the main focus of the Ice on Whyte Festival will be, well, the ice. Sculptors from as far away as the former Russian states – where the weather is even worse than our own – will each be given beautiful, clear 300 pound slabs of ice and 35 hours to chop, grind and smooth them into a variety of astonishing things for the International Ice Carving Competition. Prizes will be given on Sunday. All the pieces are of course doomed to melt and crack into oblivion. Aren't we all.
Festival producer Wanda Bornn says, "The artists who carve ice look at it as performance art, and part of the art is the deterioration that the weather provides to the work. Because the weather changes it, and yet still in its own way it is beautiful."
The winterfest trend in Edmonton has grown. Some events are even competing. Ice on Whyte comes on the heels of Deep Freeze, which drew 20,000 to the Alberta Avenue community for Byzantine fun last weekend. The Metropolis Festival, meanwhile, runs every weekend until Family Day at Churchill Square. The Mill Creek Adventure Walk happens Jan 27 and 28 at 7 p.m., starting at the Mill Creek Swimming Pool. The Winter Light Society – sort of an umbrella winter festival organization – takes a bad hit this year with the cancellation of the Illuminations Festival, which was to have happened in Louise McKinney Park Feb. 10-11. An "unexpected" construction project scuttled a year of preparations. But then comes the awesome Silver Skate Festival in Hawrelak Park Feb. 17-20 – and then guess what? Winter is over. Almost. We need more winter festivals.
"We're known as festival city," Bornn says. "Think about the summertime. There's stuff going on almost every single weekend. We're a Northern winter city. We shouldn't hibernate. We should celebrate winter – like when we were kids, play outside till the streetlights come on."
The streetlights come on at around 4:30 p.m. But never mind. The days are getting longer already.