Nickelback returns to rock us another time at Rexall Place May 15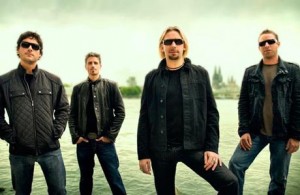 The band we hate to love and love to hate is returning to the scene of the crime. In other words, Nickelback is coming back to Edmonton.
The band, whose early gigs and rise to fame were based in Edmonton, or hereabouts, will perform on Tuesday, May 15 at Rexall Place with Bush, Seether and My Darkest Days opening. Tickets range from $29 to $99 and go on sale Saturday, Jan. 21. And lookee here: The Black Keys, which publically dissed Nickelback in Rolling Stone magazine, are playing that same building on May 12. Might we have some more harsh words to add fuel to the feud? Bring it on, friends. Nothing like a good bout of civil discourse to get the blood pumping.
Anyway, Nickelback is touring Canada behind its recent big record Here and Now, featuring the hit singles "When We Stand Together" and "Bottoms Up," two activities that are not recommended at the same time. Last time through on the 2009 Dark Horse tour, the band packed the arena with 15,000 fans, treated them to explosions, hockey talk, marijuana references and one deafening cock-rocker after another extolling the virtues of getting wasted at the lake. Expect the same sort of "vibe" at the show this spring. Hey, if it ain't broke, don't fix it!