Jim Cuddy strikes the perfect balance between solo and Blue Rodeo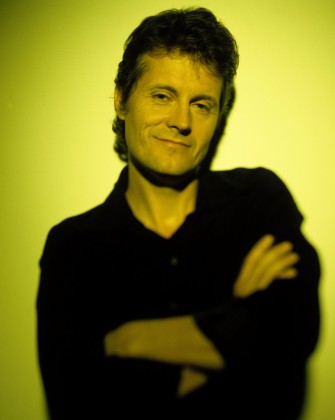 Jim Cuddy sure has a nice career going here.
It figures, since he has such a reputation as "a nice guy," never mind that time he got into an alleged hockey fight with Dave Bidini. That sort of thing just makes him more adorably Canadian.
Cuddy can play theatres as a solo artist – as he will in his show at the Jubilee Auditorium on Friday night – and play those same theatres again shortly down the road with his main band Blue Rodeo. And no one will complain. The crowds will still come out. Matthew Good, on the other hand, who went solo from the Matthew Good Band, isn't so lucky. His audiences in this town are shrinking with every visit. Whether that's from overexposure or from lack of a current hit single isn't clear. But as Cuddy and others have demonstrated, having two different projects is a great way to survive and thrive inside a country that maybe has a dozen major cities, while taking advantage of the fact that Canadian audiences are open to practically any side project from members of their favourite rock bands.
Hanging onto the band that spawned a successful solo career – the music business equivalent of having one's cake and eating it, too – is very hard to do, even without acrimony. Sometimes there's just not enough time. And sometimes the solo project is so radically different than its originating band that cooperation is impossible. City and Colour, which is screamo rock band Alexisonfire singer Dallas Green's solo project, far outshone his old band to the point that he couldn't keep leading the double life. Alexisonfire broke up in August, while the much mellower and more radio-friendly City and Colour comes to play two shows at the Jube Jan. 25-26.
Is it all a matter of hit songs? Jim Cuddy has yet to crack the legacy of Blue Rodeo in terms of hits, though material from his recently solo album, Skyscraper Soul, may come close. Unlike his Blue Rodeo partner Greg Keelor, whose albums and tours are more low-key, Cuddy aims big. His new record sounds more like Blue Rodeo than Blue Rodeo.
The Tragically Hip is one band that will never break up no matter how well Gordon Downie's solo career does. The eccentric singer can make the sort of records he could never make with the Hip, mount short tours, play with whomever he wants to, sell out small theatres across Canada, do a festival or two, have some fun and come back to his bread and butter feeling completely refreshed. That's what most gone-solo artists say: a creative vacation from your main band – which is more like a real marriage than outsiders imagine – is healthy for the marriage. Just don't look to closely at how well most "open relationships" end up. Hey, as long as you're not caught hanging around the hit parade with Rihanna, buster, we'll look the other way.
Moving on, and back in time, we see a rich legacy of gone-solo Canadian artists whose original bands were treated much like discarded rocket boosters: Tom Cochrane from Red Rider, Sass Jordan from the Box, Bryan Adams from Sweeney Todd. The Guess Who spawned so many solo careers and side projects it makes your head spin. Burton Cummings and Randy Bachman can still get together and sell out halls as the Guess Who, while regularly touring through the same markets as solo artists or whatever combinations and permutations of nostalgia rock they come up with. And are we sick of these grizzled old rockers yet? Not as long as they keep putting on such strong shows that side projects can only make better, thought the recent Bachman Turner/Paul Rodgers date at the Jube was only half full – so maybe that's a bad example. Neil Young doesn't need his "main" band anymore, but occasional CSNY reunion shows are much appreciated by fans. Ditto Robbie Robertson and what's left of The Band.
Sometimes a solo star emerging from within the ranks of a band has no effect whatsoever on the band – like with Feist and Broken Social Scene, a band that does in fact live up to its name. More common is where the singer going solo puts a successful band on the shelf, especially with a distinctive frontman. This is the case with Jeff Martin of the Tea Party or Gordie Johnson of Big Sugar. Both bands are back together now, both drawing creative sustenance from side projects spent apart and the short boost that comes staging the "big reunion." Unless there's a fresh hit single, the boost only lasts for one tour.
There are cases where neither the original band nor the solo breakout ended up doing much at all, and you wonder if they would've been better off staying together: Like Edwin and I Mother Earth or David Usher and Moist. Perhaps some more reunions are in order. Sometimes it works in reverse: Larry Gowan already had a happening solo career when he joined Styx, which had lost its original founder Dennis DeYoung under acrimonious circumstances.
Back to our nice Canadian boy Jim Cuddy. From the beginning, when he released his first solo album in 1998, he's said that working on his own music has only made Blue Rodeo stronger. Vice versa is a given. Both he and his main band remain top draws across Canada, enjoying comfortable, typically Canadian rock 'n' roll careers that give them the freedom to do whatever they want, to play wherever they want and as often as they want, and do it almost entirely inside Canada's borders without breeding contempt from familiarity.
Nice work if you can get it.