Risky business at play in Canoe Theatre Festival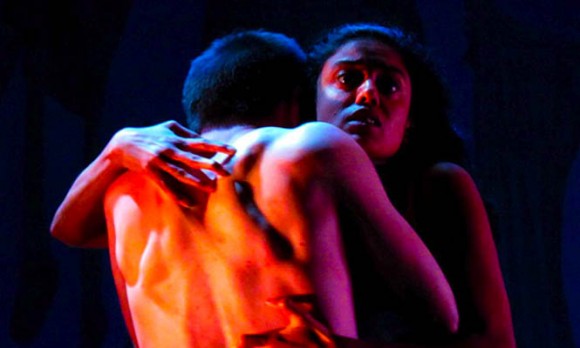 In a society that values safety so much, it's funny how the word "safe" is such an insult when applied to the arts.
In Edmonton, for instance, there is a surfeit of "safe" theatre – Cats, The Sound of Music, anything put on by the Mayfield Dinner Theatre – standing in stark contrast to the "risky" theatre put on by the few small, brave local theatre troupes whose shows draw a fraction of the audiences. This begs the risky question: Is risky theatre better than safe theatre?
Not necessarily, according to Workshop West Theatre's Keltie Brown, producer of the Canoe Theatre Festival, opening Tuesday. There's room in this town for both, she says. "There's nothing wrong with the bigger things. They fill a really specific niche. It's just not where Workshop West is at. It doesn't invalidate what they're trying to do. Besides, they're really good at it – and so we don't need to do that."
The Canoe Theatre Festival even goes out of its way to present risky, unconventional theatre. Its motto is "Theatre that rocks the boat."
The first example Brown gives of the five plays running 15 performances at two theatres over six days – a real mini-Fringe we have going here – is called "The House at the End of the Road." The interactive play is put on by performers schooled at the acclaimed Lecoq clown college in Paris. The audience will be ushered into a room filled with 250 loose two-by-four boards and invited to "explore the space as the story unfolds around you," Brown says. "They're literally building around the audience, in many cases."
From unconventional staging comes risk of a far more visceral form in "The Last 15 Seconds," an experimental work by the Kitchener-Waterloo company Multicultural Theatre Space that was created with a poll question – "If you had 15 seconds left to live, what would you say to the person who was about to kill you?" After weeks of analysing the hundreds of responses and work-shopping the idea, the play wound up being about Moustapha Akkad, the filmmaker perhaps best known as the producer of the Halloween movie series, but also films like Lion of the Desert that tried to bring a more "temperate vision" of Islam to the Western World – before he was killed in 2005 by a suicide bomber.
The subject alone is risky enough.
Says Brown, "It's quite a delicate topic. It's a show you might hesitate to program, but I saw it in 2010, and I found it had a balanced perspective, a very humane perspective. As a story it doesn't focus on the larger issues at all. Those come through in a more subtle way. It focuses on two men and their families, talking about how they were raised, the choices they made, the way they grew up and what brings them to this collision point. It's a very delicate treatment, and one that isn't disrespectful or inflammatory – while still making you think."
Isn't that the point of all theatre like this? By now, five years down the line, Canoe has earned a reputation for being a festival where you can go just to see what unconventional twist they're going to come up with this time.
Brown goes on, "It's not shocking for shock value, but shocking because it's work you don't necessarily get to see outside of the festival. We saw a need for this kind of work, which was why we created this festival in the first place."
It all starts Tuesday at 7:30 p.m. with a performance of The Last 15 Seconds at La Cite Francophone. Complete schedule of events is here. Tickets are on sale at Tix on the Square.