OBITUARY: Colin Lay a man of many gifts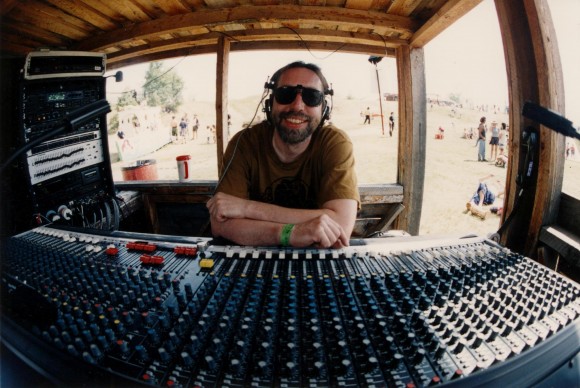 As Edmonton's music community remembers the great work of sound engineer Colin Lay, who died at home Monday at the age of 59 after a long battle with ALS, some of his "hidden" talents are coming to light.
Musicians who knew him only as the unassuming recording arts instructor at Grant MacEwan University might have been surprised that he held a Master of Arts degree from Oxford University – in physics. Those who worked closely with him certainly knew he was also an accomplished musician, but maybe not to what extent. In recent years Lay took his turn on the other side of the glass as a recording artist, as a classical guitarist, flautist and – big surprise – a singer. His third and fourth albums he'd been working on will be released this year – and very few people knew he already had two records out.
"I knew he could play, but he was a shy player," says longtime friend and associate Stewart MacDougall, original keyboard player for k.d. lang and the Reclines and later the Great Western Orchestra. "I knew he had a serious musical education. The first time he came into my house he sat down and played Fur Elise – not the part you usually hear, but the more difficult second movement. He was a better piano player than I was."
MacDougall met Lay for the first time at Beta Sound Recorders, where Lay was subbing in for the regular engineer on a day the Great Western Orchestra was in. He'd asked MacDougall if he might be allowed to mix the song they'd just recorded – "And when we heard his mix compared to the rest of the stuff, we had him remix the entire album," MacDougall says. "He became our guy after that. We couldn't do a gig without him."
You're likely to hear similar praise from people who've played the Edmonton Folk Music Festival, where Lay ran the monitors for many years. Producer Terry Wickham offers a testimonial from Natalie Merchant. He recalls, "After she played her set, she said she wanted to meet with me – and that's not usually a good sign. So with some trepidation I go to see her and she says, 'In all the years of touring with this band and any band, that was, bar none, the best sound we ever had live' – and of course that was Colin's mix. That's a tribute to the professionalism of the man. You always knew you were going to be covered with him there."
The long list of Edmonton artists Lay recorded date back to 1983 and include Maria Dunn, Bill Bourne, Captain Tractor and Amos Garrett. The latter earned the British-born engineer a Juno award in 1989. From his start in at Elephant Studios in London, England, to chief engineer at Goede Productions in Edmonton, Lay took the position as head of the recording arts program at MacEwan in 1988. He was once put on a short list to be hired as the head of the same program at the famed Berklee College of Music in Boston (the job went to an American applicant).
MacEwan music program chair Bob Gilligan credits Lay for "developing the recording program as it currently exists," and in designing a new studio that will be used when all of MacEwan's arts programs move downtown sometime in 2015. Turns out Lay was also a computer whiz who mastered digital recording techniques long before they became industry standard. Says Gilligan, "He was the person in our program who was the recording guru in all ways, shapes and forms."
While Lay was well aware of the line that exists between "engineer" and "producer" – the Hollywood equivalents would be probably "cinematographer" and "director" – he more commonly took a role above and beyond the call of duty, MacDougall says.
"He had a beautiful way of encouraging everyone to do their best, and he was open to all kinds of music. He'd say that everyone has something to offer. He had musician's ears. I think that's where he was most comfortable. I remember when he started working on his own projects, being the one recording his own performances – it was a year or two before he started getting symptoms of ALS – and he said to me, 'I don't know how you guys do this!'" MacDougall chuckles, "I was glad to see that something was finally difficult for him."
A Celebration of the Life of Colin Lay will take place Tuesday, Jan. 31 at 2 p.m. at the Westlawn Funeral Home, 10132 163 Street. Donations may be made to the ALS Society of Alberta.