MUSIC: The Crooked Brothers play it straight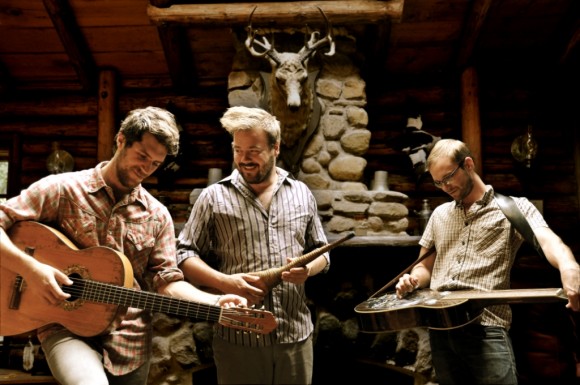 House shows aren't typically thought of as glamorous affairs.
But when Winnipeg trio The Crooked Brothers signed up for a Home Routes tour, which pairs touring independent folk acts with volunteering homeowners on a cross-country tour circuit, the band got more than it bargained for.
On their first stop, the guys found themselves playing at a billionaire's mansion in Calgary.
"That was a little strange … There was a bartender working the bar at his house show. It was a little funny, three broke musicians in a room full of Calgary's richest people," says band member Darwin Baker. "He had an oil company that he had sold, I guess, and he's basically retired now, but he had sold his company for billions of dollars."
The Crooked Brothers will bring their quirky, eclectic brand of country/folk to the Wunderbar Thursday night, playing as a four-piece with upright bassist Julian Bradford.
The Crooked Brothers started as a side project of eight-piece ska-punk band Subcity Dwellers, which Baker and bandmate Matt Foster were both members of. Foster has already quit Subcity, and the band sadly announced it will call it quits this March, which has made The Crooked Brothers Baker's new top priority.
Baker, Foster and third "brother" Jesse Matas are all skilled multi-instrumentalists who routinely swap banjos, mandolins, lap steel guitars, harmonicas and other toys, both live and on CD, while also exchanging vocal harmonies.
"We're always picking something new up and figuring the song out or figuring out how to play the instrument," Baker says, noting his first instrument was trombone, and his favourite is the harmonica.
The band's free-for-all policy often includes friends who come in to add bass, drums and fiddle on recordings. Other tracks, however, are laid down as nothing more than stripped-down solo numbers.
"Sometimes it means one or even two of us sit the song out if it doesn't need anything else," Baker says.
The Crooked Brothers' 2011 sophomore album "Lawrence, Where's Your Knife?" kicks off with the gritty, upbeat 17 Horses, on which Foster growls maniacally over a funky rhythm, telling the tale of a rural anthrax epidemic that felled horses in Manitoba's Whiteshell Provincial Park in 1931. The album was self-recorded last winter in a small cabin on a frozen lake in the band's home province, which undoubtedly contributed to the themes of prairie life and heartbreak found throughout the album's often melancholy songs. The peculiar album title comes from a little piece of Foster's own family history.
"That came from a note that Matt had lying around that was from his grandma, where she gave him this knife and it had a story about his grandpa – whose name was Lawrence – always having a knife on him when they needed one," Baker says.
Baker's lyrical contributions on Up the Mountain and Working for the Government tend to be of the less poetic variety among the album's 10 tracks.
"I guess I try to take my lyrical inspiration from more blues and rock 'n' roll, and classic country influences I always like as well … A simple song that kind of gets straight to the point," he says. "The two other guys are much more poetic."
With the Subcity Dwellers out of the picture, The Crooked Brothers hope to record another album by year's end and tour Europe this spring, which has been a longtime goal of Baker's.
Tickets for Thursday's show, with the opening act Low Flying Planes, are $5 at the door.