Toller Cranston to relive great moments in skating music with the ESO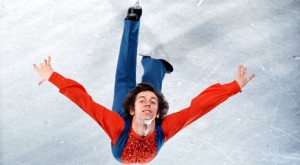 Imagine two identical figure skaters, both brilliant and amazing enough to win a gold medal. One skates to Shostakovich's Symphony No. 5 in D minor, the other to You Give Love a Bad Name by Bon Jovi. Who wins?
The answer is of course obvious, as is the idea that the music selected by a figure skater has a crucial effect on not only the final score, like it or not, but on his or her performance.
Ask Toller Cranston. The champion figure skater is the host at Thursday night's Gold Medal Skates concert with the Edmonton Symphony Orchestra in the Winspear Centre. The 1976 Olympic bronze medal winner will offer anecdotes and stories about some of the favourite pieces that helped propel him into ice dancing legend. The program will include excerpts from Carmen, the Sabre Dance and from the film Casablanca, all solid skating numbers.
Conductor Lucas Waldin says the very best figure skating music is generally found in your famous Russian ballets, the Tchaikovskys and the Stravinskys and so on.
"Stuff like this is very romantic and very rhythmical," Waldin says. "They've been used over and over – and there's a reason for it." Good skating music must also be "energetic enough to add to the energy of skating. There are some things that beautiful and lyrical, but most of the things that win championships, I think, have historically been energetic and exciting, things that will both rile up the crowd and inspire the skater."
There are restrictions. No music with lyrics. Bon Jovi is out. And there must be some variety of rhythm within the piece. Waldin gives the famous example Jayne Torvill and Christopher Dean, who earned a perfect score at the 1984 Winter Olympics skating to Ravel's Bolero – which was technically against the rules because the rhythm is exactly the same the entire way through. But the fans and the judges were apparently so moved by the unbridled sensuality of the performance that they let it slide. It certainly didn't hurt that the sequel to Bo Derek's movie 10 – in which she and her partner made love to the tune of Bolero – had also come out in 1984, called, naturally, Bolero.
But that may have been it for Bolero and figure skating.
Says Waldin, "They actually did skate to the Bolero a couple of years later and came in 18th."
The ESO had consider the idea of running ice dancing footage during the show, but felt it would be too distracting to figure skating enthusiasts and classical music fans alike. The program will also include pieces Cranston never actually skated to.
"There's a real gem that he found in a supermarket in Mexico," Waldin says. "He picked up this CD by the British film composer Carl Davis and we're going to play this piece he wrote for a film called Hollywood. Toller Cranston said when he heard this he was dancing around his studio planning his comeback. So we get a chance as well to play stuff he wished he'd skated to."