Mile Zero Dance performance art happening to be powered by bicycle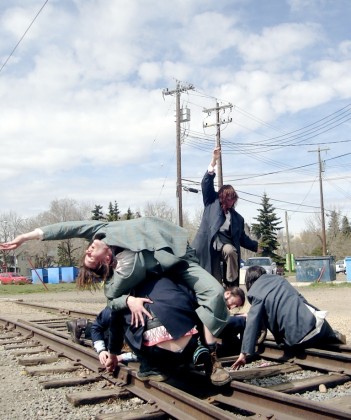 One usually doesn't think of how much energy it takes to run a theatre show, but Mile Zero Dance is about to change that – and set a new level for "audience participation" at the same time.
All of the acts featured in Saturday night's "Unplugged Salon" at the Westbury Theatre (10330 84 Avenue) will be performing to sound and lights powered by audience members pedalling bicycles. Five bikes at full speed can pump out 600 watts to power a bank of batteries for efficient LED spotlights plus a modest sound and video system. If volunteers fail to spin their best, things might get kind of quiet – and dark.
That's the idea, says Mile Zero artistic director Gerry Morita. It's an experiment.
"Our season this year is called 'Off the Grid,' so even though we're a dance company, we're using our season to explore ideas about power and conservation," she says. "The last salon was a complete contrast. It was called the Wired Body, it was high tech, working with videos and the virtual, and lots of technology and using technology to mediate the space between the audience and the performers. Sometimes when you're using things like video there might not be as direct a connection."
Saturday's more intimate, low-tech alternative will feature performances from dancer Richard Lee, "horror clown" Mike Kennard, alternative puppeteer Simon Glassman, Edmonton's new poet-laureate Anna Marie Sewell and a snippet from Azimuth Theatre's upcoming play "Apocalpyse Prairie." Live music will come from electro-acoustic artists Dave Wall and Walter Kubanek, plus reggae band Souljah Fyah – acoustic and unplugged, of course. Variety enough for you?
Morita says she borrowed the idea from the local arts group Music is a Weapon, which used similar bikes to help power the SOS Fest last summer. When you're working in theatre, she says, "we're using so much power without even thinking about it. We're exploring the efforts that are required to use less power. It's been an informative exercise."
Not to mention some literally good exercise for theatre goers. There is some concern going in that the sound of the bicycles may interfere with the quieter performances – the poetry, for instance – but the poets have the option of either using a live microphone or getting really quiet. Beyond making a point about conservation, part of the reason for doing this is simple curiosity, Morita says, and also to explore "some innovative ways of saving energy without going back to the 18th Century," she adds. "I still want light and video."
Admission to the 8 p.m. show  is $15 or $10 for Mile Zero Dance members.