Axetremefest to recreate School of Rock for area high school students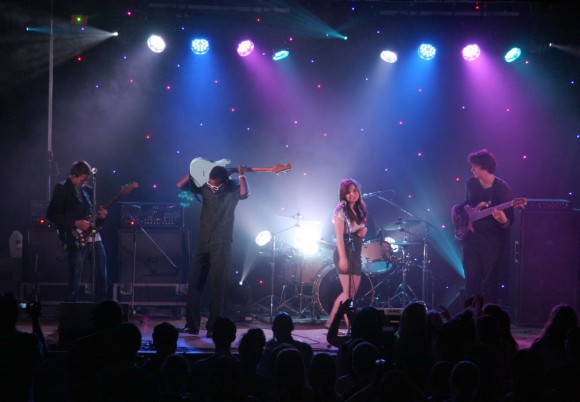 Much effort is made on the part of record companies, concert promoters and radio stations to guess the music "kids today are into."
The people at Axe Music don't need to guess. They know, thanks to its annual Axetremefest school program, which brings a complete professional sound and lighting rig into selected Alberta high schools for a one-day, full-on School of Rock Concert – free. The tour starts in April. There's no catch, and no strings are attached – unless you don't count the certainty of dozens of switched-on teenage rock musicians begging their parents for new gear. Using equipment left over from when Axe ran a rental company, as part of the owner's pledge to develop new talent (as in new customers), the program still has nine spots left to fill.
Sound tech Bill Hanson, who has been at the helm for the last five years of the 10 year program, has noticed some interesting trends.
"It's changed even from two or three years ago," he says. "It seemed like there were more bands like Slipknot, heavy metal, lots of screaming and yelling or whatever. Now there seems to be a lot of younger guys playing '70s rock, Led Zeppelin, the Stones, stuff like that. It's weird."
Yes: weird. High school bands were into Led Zeppelin and the Stones 20 years ago. Whether this is a sign that nostalgia has become stuck in time like a plot device in Futurama (where pop culture has been stuck in the 1990s for a thousand years) is a topic for another day, but Hanson says he notices few "pop" bands playing during these festivals, not a lot of Katy Perry or Lady Gaga covers. It's either heavy metal or Zeppelin and Stones covers, though usually there is at least one act per school that does original music. Some have even gone onto a professional career in music.
Axe takes care of the entire gig. At each participating high school, 15 acts get 15 minutes each for a three hour show held in the school gym. Axe also gives students the opportunity to learn the technical side of putting on a live rock concert, learning about set-up, soundcheck and running sound and lights.
Schools interested in participating in Axetremefest should contact Tracy Willauer at 780.471.2001; Application online here.