The Jezabels, big in Australia, return to headline Starlite Room April 26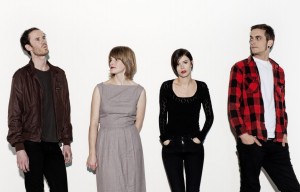 The Jezabels are returning to headline the Starlite Room on Thursday, April 26, just a couple of months after opening for Hey Rosetta at the Myer Horowitz Theatre.
The Australian quartet is fronted by Hayley Mary, who struck a chord with most attendees at that show, being compared by some to Metric's Emily Haines, by others to Karen O (of the Yeah Yeah Yeahs), and even to Kate Bush. She is enigmatic, charismatic, and beautiful, and gifted with an even more amazing voice.
Matched up with a ferocious drummer (Nik Kaloper), a guitarist with the most obvious Australian accent you've ever heard (Samuel Lockwood), and the perfect offset to Hayley, keyboardist Heather Shannon, the group did seem a little out of place in the Horowitz, especially as an opening act, with everyone sitting in their chairs, and the band finding it hard to really "rock it out". The Starlite Room is a markedly better venue for this band, and it should put on an extraordinary show there with its unique combination of alternative, indie and dance pop music.
The band is touring North America behind its latest album Prisoner, which recently earned gold sales in Australia, along with other accolades, including being of the "100 best new bands" by NME Magazine.
Tickets to the show, with opener Benjamin Francis Leftwich, are $15 and go on sale Friday, online here.