WEEKEND MUSIC PREVIEW: Tip of the Iceberg festival just the tip of the iceberg
Posted on January 26, 2012 By Michael Senchuk Music
A couple of acts that hit their peak in the 1990s come to Edmonton this week, with the pop brothers Hanson on Friday, and country crooner Neal McCoy on Saturday. And there's plenty of local talent on display as well, culminating in an all-day live music festival at Winston Churchill Square on Sunday, Tip Of the Iceberg, featuring a performance from 100 Mile House (above) and many other local bands.
Friday
Chic Gamine – This Winnipeg gospel-soul-world-roots trio hailing from Winnipeg use their voices as instruments, and are accompanied by a solo percussionist. How can that NOT sound intriguing? St. Basil's Cultural Centre, 7 pm, $22.
Hanson – Yes, that Hanson – the pop band of three brothers from Oklahoma. While their biggest hit "MMMbop" was back in 1997, they continue to tour, and produce new material. Interestingly, middle brother Taylor is also the lead vocalist for "supergroup" Tinted Windows. Festival Place, 7:30, SOLD OUT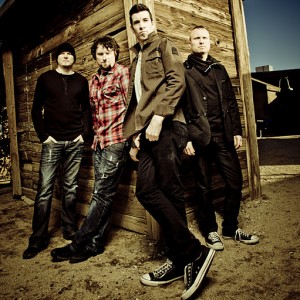 Theory Of A Deadman (right) – This alt-rock quartet from metro Vancouver saw both of its last two albums (the most recent being 2011's "The Truth Is…") rocket to #2 on the Canadian charts. The last one even hit #8 on the U.S. charts. Jubilee Auditorium, 7:30 pm, $27.50 and up. Buy link here.
From Love To Forfeit – This month's Sonic 102.9 "band of the month" show features this alt-rock-lite band. Forester, Knibb High Football Rules, and Nature Of also perform. Pawn Shop, 8 pm, $10.
Brocade – This alt-rock act from Calgary will headline the Haven Social Club, along with performances from Mayday & The Beatcreeps and Dan Smith. 8 pm, $10.
Daniel Moir – The Wunderbar hosts an evening of local and extraordinary talent, with singer-songwriter Daniel Moir, Joe Nolan, and Lou Wreath. 8:30 pm, $10.
Saturday
Doug Hoyer – Black Dog Freehouse's no-cover afternoon show features this local performer, who's been climbing the buzz ladder quickly over the last few months after opening for a couple of prairie bands, Slow Down Molasses and Library Voices. 4 pm.
Neal McCoy (top picture) – This Texan has released a string of eleven country albums on various labels, scoring a pair of #1 hits in the U.S. in 1993. He's currently touring to support his upcoming album, "XII", to be released on March 6. Century Casino, 7 pm, $39.95. Buy link here.
Drive By Day – This local quartet combines classic and modern rock in a manner sure to please fans heading to Haven Social Club. Dead Cat Bounce, The Turning Away, and Electric Religious will open. 8 pm, $10.
Sunday
Tip Of the Iceberg – This day-long music festival is co-presented by Old Ugly Records and Edmonton's Next Gen. Starting at noon, Jom Comyn, Camembert, Krang, Viking Fell, Brazilian Money, Jessica Jalbert, Field & Stream, Mitchmatic, Scenic Route to Alaska, Jeff Stuart & the Hearts, Liam Trimble, and 100 Mile House perform. Winston Churchill Square, noon to 10 pm, free.
Tip of the Iceberg Afterparty – The official after-party will be hosted by Wunderbar, with Bonspiel and Mikey Maybe performing.