New art at airport to make airport experience less like an airport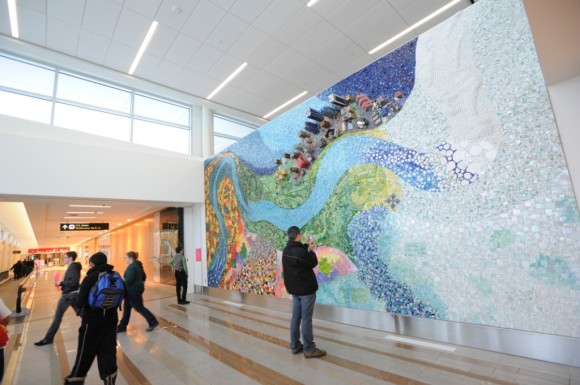 There's a cool million dollars in amazing new public art at the Edmonton International Airport (EIA) – but you have to buy a ticket to the United States to see it.
How fitting that much of said art is near the security area that helps make modern air travel such a humiliating and disempowering experience.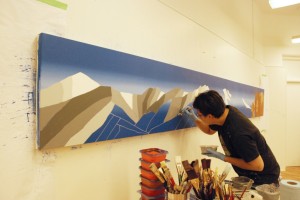 "If you can put artwork into security areas, it tends to calm people," says airport spokesperson Liz Dwernychuk, especially citing a painting by Jason Carter that depicts Old Man Mountain in Jasper National Park and bears therein. "The aboriginal meaning behind the bear is a sense of freedom and a sense of power."
Which you can ponder as you're removing your shoes.
"Exactly – it really is meant to relax a passenger."
Part of the $1 billion Expansion 2012 project funded by the Airport Improvement Fee, "Art at the EIA" was officially unveiled Monday, on display in the brand new U.S. Departures area, which will be open to the public in two weeks. One of the most impressive installations is a 30 X 14 foot wall mosaic called "Everything Flows, Nothing Stands Still," depicting an aerial view of Edmonton through all four seasons. It was created by Edmonton's Erin Pankratz-Smith from thousands of tiles.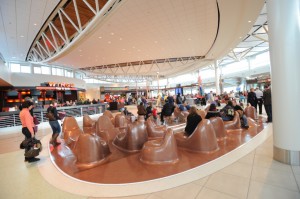 A weird piece called Kopperscape that looks like a futuristic seating area is meant to be "interactive" – welcome for use as an actual seating area. For passengers in a rush – you're either in a rush or have time to kill, no middle ground with air travel – there is "Flightpath," a wall of video screens that reacts to passengers' movements as they walk down a long corridor for a "relaxing, playful experience."
There are two more installations to come, to be viewable only by international passengers. Also on display will be removable artwork in cases, along with exhibits honouring four of Edmonton's arts groups, Edmonton Opera, the Art Gallery of Alberta, the Edmonton Symphony Orchestra and Alberta Ballet – all to give travelers " a sense of community and showing who were are," says Dwernychuk.
Of the dozen artists chosen from 200 in a worldwide call for submissions, three are from Edmonton.