HIP HOP: Mitchmatic works hard to make it look easy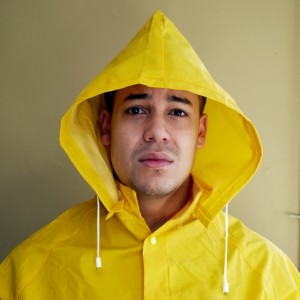 "I just try to relax and let it flow out naturally, but it doesn't happen very often," Mitchmatic says in the intro to the song Sorry, from his new new album It's Probably Raining.
The local rapper, real name Mitch Holtby, is too modest; his flow is smooth and natural as can be throughout the album. When it comes to mixing and producing, however, the rapper, producer and multi-instrumentalist could stand to relax a touch. He describes the recording process as "slow and painful."
"(The album) is really short, but some of the beats on there I've had for three or four years. I think I'm going to have to alter my creative process to be faster in the future. It got pretty ridiculous," he says.
Mitchmatic will release It's Probably Raining with a gig at the Wunderbar Friday night. Warming the stage will be his Old Ugly labelmates The Joe and Mikey Maybe, the latter of whom paired with Mitchmatic on the track Served Cold for the Edmonton Journal's "puck rock" hockey anthem contest last fall.
Mitchmatic's first official release is long overdue.
"I listened to it way too much … I recorded most of it last winter, so I've just been overthinking everything for a year," he says. "I'm pretty obsessive compulsive in some areas, and on some of these songs it got really out of control. There were certain ones where I'd think I'd finished it, I'd mix it down, and I'd listen to it and find something else I'd like to change, and I'd do that like 50 times. Just countless hours spent on one song.
"I don't think the little things I'm noticing are even perceptible, especially by someone who didn't make (the album) … I was going back into the song to change the level of one drum hit, or the level of one word."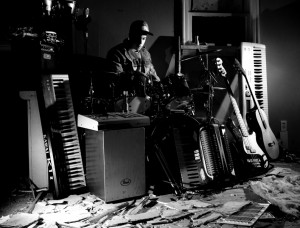 His compulsive editing wasn't all for naught. The irresistibly catchy lead single Why Don't You Know got a spin on National Public Radio in the U.S. and is building a strong Internet buzz with the help of its hilarious video (below). The tongue-in-cheek lyrics about stalking a creeped-out love interest are set to clips of 1950s PSAs on dating advice and a musical sample plucked from a wildlife video Holtby found on YouTube.
The rest of the eight-song EP features abundant old-school jazz samples and bits of percussion and synth played by Holtby, as well as a guest spot from Edmonton expat Cadence Weapon on Work in the Method.
"I've had good responses from it, so I'm happy," he says.
Holtby's quiet nature away from the mic contrasts his energetic stage presence and  slick rhyming skills. He comes from a musical family that includes a brother and two sisters who are all touring musicians, as well as cousin Phil Holtby who plays in local acts DoT, Catgut and Skies of Strife.
Growing up in a small town in B.C., Mitch's dad was a jazz enthusiast and his mom was an elementary music teacher who played "pretty much anything she could get her hands on."
He is much the same way; his current work with other Old Ugly acts includes playing sax and keyboard with Jessica Jalbert, drums for Liam Trimble and Sugarglider, bongos for Doug Hoyer, and playing with the collective Bike Month. He is also producing The Joe's new album, which he hopefully won't hold onto for too long.
If any of his musical endeavours hit pay dirt, Holtby will be more than happy – "After seeing how much some people have liked (the new album)," he says, adding he's planning a Canadian tour this summer. "I like music in so many different ways. I could be doing it in any way and still be happy."