Ben Folds to perform with the ESO March 29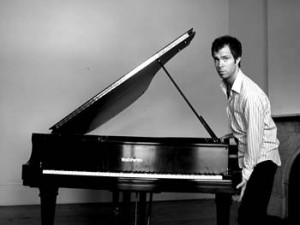 From the "It's About Time" file comes Ben Folds – who is finally playing in Edmonton.
And it won't be Ben Folds Five (which was actually a trio) or by himself. The acclaimed piano-rocker will perform with no less a big band than the Edmonton Symphony Orchestra, at the Winspear Centre on Thursday, March 29. Tickets are $49 to $69 and go on sale February 9 at the Winspear box office.
This highly-anticipated show is expected to contain all the quirky hits Folds is famous for – including his first commercial breakthrough Rockin' the Suburbs in 2001, along with material from his critically acclaimed 1997 record Forever and Ever Amen. Not merely his first appearance in Edmonton, this will be Folds' first appearance with any Canadian orchestra. He's done similar shows around the world in the last few years, however, including a night with the West Australian Symphony that was made into the 2005 DVD "Live in Perth." He has since reformed the Ben Folds Five, which will be working on a new album this year.
In addition to his own music, Folds has worked with an interesting assortment of other artists, including as producer and co-writer of William Shatner's 2004 comeback album, "Has Been." Folds has also done movie soundtracks and is a judge on NBC's talent show The Sing-Off – but it's his own songs that have made such a connection with fans: Touching sentiments and wry observations framed in a loose, raucous, occasionally noise rock grooves whose main sound isn't guitar, but the pounding piano Folds played with such wild abandon. Some fans suggest this guy was single-handedly (doubled handedly) responsible for bringing keyboards back into mainstream rock, predating Coldplay by several years, even as the music of Folds himself sat on the very edge of what one would call "cult popularity."
In short, he didn't get played to death.
Next cult hero on the wish list: Eels.