Edmonton Opera pushes the limits of The Mikado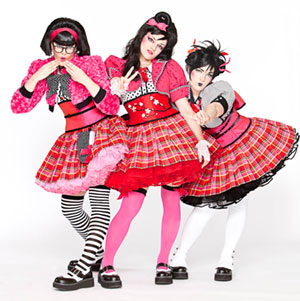 "The politician who starts with a mission and promptly changes plans, he'll be axed from his job with nary a bob and sent to the oil sands."
Oh, there's more where that came from.
Robert Herriot, director of Edmonton Opera's production of The Mikado – opening Saturday at the Jubilee Auditorium – is such a big Gilbert & Sullivan devotee that he can write in their style with relative ease.
"It's all in the rhythm," Herriot explains. "If you can't sing it then you're probably not doing it right."
But a few updated lyrics – a few shots at the current establishment in honour of the original work's swipes at Victorian England – aren't the only liberties Herriot and his cast are taking with this venerable opera. Try not to gawk at the short-skirted young ladies who flood the stage in Act 1, for example: costumed in a seductive fusion of anime, goth punk and Japanese street fashion that would make the 19th Century prudes heads' explode, let alone the Mikado, the imperious Pooh-Bah or the court advisers who enforce the law that flirting is a capital crime. Long story. When one usually attends a production of The Mikado, Herriot says, one usually sees "40 women in 40 identical kimonos and you often forget who's who; there's not much delineation between the characters."
Not at this show. Careful thought was put to making sure the costumes fit the characters' personalities, but tradition has basically been thrown out the window.
"It's shocking, not what we're used to," the director goes on. "Instead we see these girls come in and the visual is pretty spectacular. They are sexy – but that's what I wanted. I wanted youthfulness, I wanted the flirtatious quality juxtaposed with all these men … The piece itself really poking fun at Victorian society, so there's a lot of undercurrent. They were very witty how they composed the songs and the libretto; it's probably one of their best works. My direction to the cast is that Japanese culture is a proper culture. Even today, bowing is still very much a part of it. The undercurrent? If you Google anything about Japanese schoolgirls …" He adds, though, "This is a family show."
The Mikado is one of these freaks of artistic nature. Gilbert and Sullivan were effectively forced to write it, thinking they'd have time to delve into more "serious" work but faced with a six month deadline when their previous opera Princess Ida just wasn't doing the box office producers expected. Inspired – legend has it – by a Japanese executioner's sword hanging in his library, W.S. Gilbert came up with the basic Mikado plot, a tale of a romance between the Nanki-Poo – son of the Mikado (emperor) – and a girl named Yum-Yum set amid a riot of intrigue and peril too complicated to get into here. Beheading was apparently a common penalty for breaking the law in 19th Century Japan.
Gilbert and his partner Sir Arthur Sullivan – these guys were already widely known by 1885, the Andrew Lloyd Webbers of their time – knocked out the libretto in record time, created the characters, songs and sets, wrangled 40 kimonos in Victorian England when eBay hadn't been invented, and had the thing on stage at the Savoy in the nick of time. It was a smash hit – with every class of opera-goer. As Gilbert said in an 1885 interview, "The occupant of the sixpenny gallery is as fully entitled to have his money's worth as the philosopher in the stalls, and it must not be forgotten that the occupant of the sixpenny gallery is the man who is in the habit of expressing his disapprobation in the loudest and most embarrassing manner."
Imagine: People used to heckle operas. Of course there was nothing else on at the time.
Herriot is a big fan of the 1999 feature film Topsy Turvy – "I've probably seen it about 125 times," he says – depicting the trials and tribulations Gilbert & Sullivan had getting The Mikado going.
"They didn't want to do it," Herriot says, "but they managed to pull of one of their best works. This is why I didn't want to drag my heels and be shy about it. Tosca – you don't want to mess with Tosca. This was the perfect vehicle. Like, I said: can we have a motorcycle on stage? So we have a motorcycle on stage. Katisha rides a motorcycle. Hopefully she'll do it."
Herriot doesn't claim that Edmonton Opera's version of The Mikado is the most outrageous ever produced, but it may be close.
"This has been the vehicle for lots of things," he says. "I'm pushing it further, certainly, just because: why not?"
The Mikado plays Saturday, Tuesday (Feb. 7) and Thursday (Feb. 9) at 7:30 p.m. in the Jubilee Auditorium. Click here for tickets.