5 Artists 1 Love to showcase black artists, music at the AGA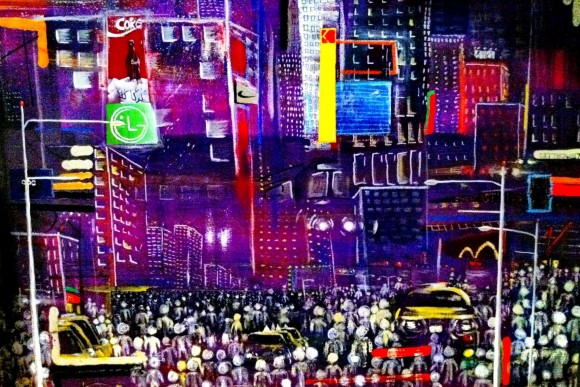 Every time Black History Month comes along, we hear the same questions: Why do we even need a Black History Month, and if we do, why is it in the shortest and coldest month of the year?
Dismissing the latter as coincidence, we trot out that now famous Morgan Freeman quote: "I don't want a Black History Month. Black history is American history."
The answer that comes back is usually the same: We need Black History Month because this is not a perfect world. Besides, it's better than nothing.
Edmonton painter Darren Jordan – curator of the 5 Artists 1 Love art, poetry and music event at the Art Gallery of Alberta (AGA) Saturday night – puts it better, "Why group people based on their race? That's done anyway whether you're a willing participant or not. That's the way the world is structured."
Jordan talks about Dr. Carter G. Woodson, founder of Black History Month (starting as Negro History Week in 1926, changed to its present name and duration in 1976).
"He started it because he realized that black people's contributions to history and any type of advancement had been left out. So he felt there's definite need to show that as a people we've contributed. If you believe as people that you've done nothing, have been a burden or have taken away from society, you can't flourish. Even in a family unit, people with a sense of pride and a sense of where they came from do better."
Because this is the fifth year of 5 Artists 1 Love, and its first time at the AGA, it will be a retrospective. Thirteen area African-Canadian artists will have their work displayed, including musician Brett Miles – whose "funky, free-flowing abstract style (is) much like his music," Jordan says – along with Jordan himself. His piece "First Time in a Big City" (top image), a painstaking work done with paint and homemade stencils, depicts Times Square, inspired by his first trip to New York City. There will also be a communal "wall" with artists contributing work to the theme: The Civil Rights Movement.
The musical and poetry component of the evening, the United Colours of Soul, is being wrangled by Edmonton's soulman Jeff Hendrick, who says that he, among many others, owes a huge debt to black history in America.
"Obviously it's really important to me," he says. "My influences start with Miles Davis, Stevie Wonder, Prince. Without the black experience in the U.S., I wouldn't be doing the music I am today."
Tickets to the concert, starting with the gallery reception at 4 p.m. are $30 and on sale at Tix on the Square. The art will be on display to the end of February.