Edmonton Public Library book sale the most coveted volunteer gig in town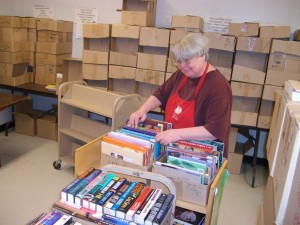 Volunteering to work the tables at the Edmonton Public Library's book sale is a pretty sweet gig – you get the first crack at the best books, and every hour of volunteering earns you $2 worth of "book bucks" which you can put towards purchases during the sale. But it's not that easy. There's a wait list to become a volunteer and you have to apply to be on it. Then there's an interview. They even check your references.
Maybe you should just settle for medical school.
This year's book sale runs Friday through Sunday at the Stanley A. Milner Library.
Adrian Pearce, who recently started sorting books for the sales, says he actually had to apply twice. He first applied two years ago after becoming interested while shopping at one of the book sales, but he figures his application got lost in the shuffle of other applicants. Persistence paid off and he got an interview with the volunteer co-ordinator, Sheineen Nathoo. Pearce, who works at a local TV station, believes he made a good impression.
"I sincerely described my belief in the Edmonton Public Library and explained to her that I am the tape librarian at my work," Pearce says. "I also think that of all the cities whose libraries I have used, EPL is the best."
There are two types of book sale volunteers – those who work at the sales, which are held four times a year, and those who sort the books in between those sales. Twice a week, every week, volunteers unload pallets of books that come in from various EPL branches throughout the city or have been donated to the library by readers.
Nathoo explains the procedure for selecting volunteers is important because it gives co-ordinators an idea of what skills the prospective volunteer has. It's also to make sure people know what they're getting into before they volunteer.
"We don't want people to be disappointed – to volunteer and discover it's not for them," Nathoo says. "We also want to make sure they're physically up to it."
Sorting books for the sales isn't cushy work. It happens in a windowless room in the Milner basement where the pallets of books arrive. Each pallet has fifty boxes, and there's a surprising amount of lifting involved considering many of the volunteers are retirees.
Marilyn Marr, 62, says new volunteers who think they're simply going to "scope" the boxes for the best books usually don't last long. "It's quite heavy-duty physical work you're doing," says Marr, who been a volunteer for almost five years. "There's bending and lifting. It's quite a workout. There's a lot of retired people, but they're fit. We're not spending our time shopping."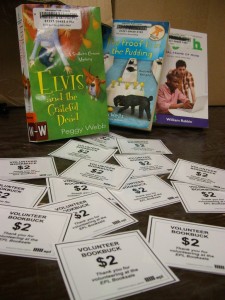 The sorters aren't just brawny – they have to know their books, too. The books from EPL branches are ones that are being removed from circulation to make room for new acquisitions. Some of them are still hot titles, it's just a lot of them were ordered when they were new because there was a rush of readers who wanted them. The thing is, when they arrive, they're only generally labelled as fiction or non-fiction, children or adult. It's up to the sorters to break them down into more precise categories such as romance, western, science fiction, world languages, adventure, etc. There's movies, too. It isn't always easy to tell which category they should go in. Paranormal romances by authors like J.K Beck are popular these days, but where to put them? Mysteries that include instructions on embroidery by Amanda Lee?
Anyone, anyone?
"Sometimes it's obvious and sometimes you really have to look at them," says Marr, noting romances are usually pink. "Sometimes you can judge a book by its cover. But sometimes you can't."
Close to 45,000 titles will be available when the sale starts Friday morning at 9 a.m. Paperbacks and children's books are a $1, while hardcovers and DVDs are $2. You could wait until Sunday when you can load up a whole box for $10, but it's only on from 1 p.m. to 3 p.m. that day and many of the best selections will likely be gone.
The money raised during this book sale go towards supporting the new EPL branch in Clareview which is scheduled to open in 2013. And supporting the library system is what the volunteers really care about. They never really use all the book bucks they earn, and they mostly donate the books they buy back to the library after they've read them so they can be sold again at the next book sale.
"I firmly believe the library provides an essential service to the community so whatever I can do to help is important to me," says Linda Reichenauer, who has been volunteering since 2007. "And working alongside other volunteers who are similarly interested is a good feeling," she adds.