REVIEW: Laughter flies in the face of damage in beautiful Moving Along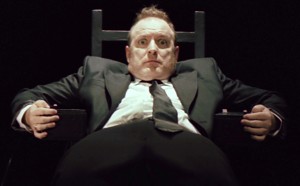 "Nobody appreciates damage … at the time." These are the striking words that started the public's introduction to Chris Craddock's magnum opus Moving Along back at the 2001 Fringe Festival. The play has resonated with audiences ever since.
Moving Along has been remounted seven times over the years – and here it is some 11 years later, and the piece has finally hit the mainstage of a theatre's regular season. Theatre Network offers the latest production of the one-man show through Feb. 26, promising changes, perhaps to justify the re-mounting. Trying to fix that which is not broken is a dangerous business, leading fans to fear the dreaded report, "Yeah, it's good, but not as good as it once was." There is no need to worry. Craddock, director Brad Moss and sound designer Dave Clark have all conspired to make one of the best plays ever seen into something even more beautiful.
At its core, Moving Along is just simply a collection of wild musings and memories by an ordinary man with an extraordinary way of expressing himself. Craddock is seated during the entire duration of Moving Along in a special chair, from which he controls all the light and sound cues, and for the 105 minutes spins one tale after another, sometimes segueing only with the phrase "Moving along…" Tales of love, yarns of pain, the first memory Craddock can recall from his life, triumphs and traumas, a family that is the definition of "dysfunctional," a pledge at a fraternity, an eye-opening trip to Nicaragua, a not-so successful relationship with a male playwright, the torment of a mean girl at high school, a run in New York of Bash'd (Craddock's gay rap opera) that is tainted by the interference of New York producers and a marriage in Central Park. It's all delivered with a rapid fire insight that ranges to painfully funny to just downright painful.
At first, the light cues come so fast and furious and without a lot of motivation, like walking into a epileptic's nightmare. But it becomes clear that the rapid light changes are there to keep up with the speed of Craddock's firing neurons; the internal dialogues, asides and conflicts between the hemispheres. The points and counter points. The games, the sets, and matches. All from a man who has struggled to appreciate damage … with time.
Moving Along does what all good theatre does: It makes you think, it makes you laugh, it makes you feel and – at times – will make you weep as you will struggle to appreciate your own damage. And a simple call-back to a trip to Nicaragua will remind you that our damage really isn't that bad, but it's still damage.
Moving Along is like someone who has the good sense to use the word "poignant" only in proper context, and the even better sense to keep the "G" silent (not everyone can do this). But of all the weapons used to sell the play to the audience, the deadliest of them all is Craddock's stark and astounding awareness of self and the ability to laugh at that self: The unflinching talent to point fingers at his own chest and take on an accountability that would crush, kill and destroy lesser beings.
(Read interview with Chris Craddock here.)