Silver Skate Festival wins winter festival derby in a walk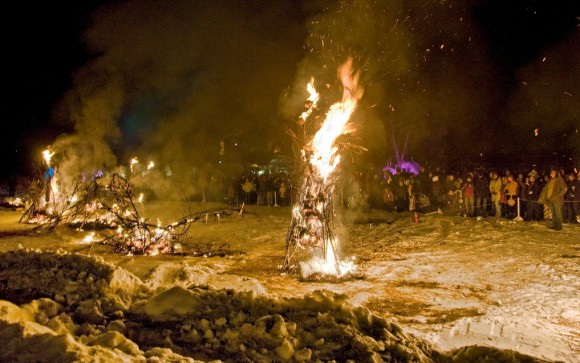 There is one major winter festival left in the winter festival season to ease us into springtime (now that wasn't so bad, was it?) – and many hardcore hibernal celebrants agree that the Silver Skate Festival is the best.
The 22nd annual event happens Friday through holiday Monday at Hawrelak Park.
This is no frivolous judgement. It is the fruit of several winters' worth of gruelling research. One must experience these events firsthand, look at all aspects of the winter festival experience crucial to alleviating the inherent Sherpa-like drudgery of trying to have fun with whiny children outside on the frozen outback during the winter in Edmonton. All of our winter festivals have their strengths, their distinct themes, and some have growing pains, and while we haven't reached that magic two month saturation of contiguous festival days as we enjoy in the summer, we're awfully close. (The only fest not attended was the new one, Metropolis in Churchill Square; heard it was lame. Also heard that they charged $2 per slide to slide down a slide that's not even an ice slide. Bah.)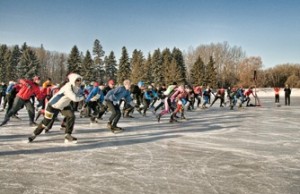 Let's go to the toteboard:
It must be free – If we wanted our wallets Hoovered, we'd go to a 3D movie. Besides, we're saving up to blow all our money at the summer festivals. Rule of festival thumb: The worse the weather, the cheaper the attractions must be. Go ahead and make donations. That's different.
Hot chocolate – A deal maker. That should be free, too. And don't try to substitute warm apple cider, please, and yes, we're talking to you, New Year's Eve Festival in Sherwood Park. Yuk.
Ice slides – Must be free. Must be made of ice. The many "unofficial" slides seen on the steep slopes at the Mill Creek Adventure Walk win for being the most dangerous – and fun.
Sports – Can't have a winter festival without winter sports. Even Ice on Whyte had ice slides (good ones, too). Mill Creek Adventure Walk had the long walk (and the "trail of tears" back to the car). You can sprawl and sit and snarf elephant ears at the summer festivals all you want, but if you don't keep yourself moving at a winter festival, you'll freeze like Jack London, mild winter or no mild winter. Silver Skate wins the sports prize in a walk, so to speak. Add it up: huge forest-fringed skating surface, triathlon (now a biathlon due to lack of skiable snow), professional speed skating races, dog sledding, cross country skiing, show-shoeing (and free rentals), sledge hockey, fort building, snow sculpting, you name it.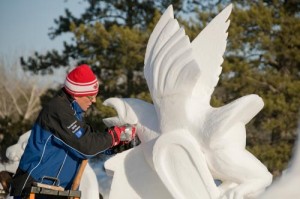 Food concessions – You need SOMETHING, hotdogs, even, if you're spending an afternoon working up an appetite in the tundra. Funny thing: The usual summer concessionaires used to be reluctant to haul out their gear for local winter festivals; now they're "lining up," according to Pamela Anthony, spokesman for the Winter Light Society, which kicked winter festival season in Edmonton into high gear a couple of years ago. Back to food, Silver Skate offers Dutch cuisine in a take-out or sit-down establishment, along with Caribbean jerk, kettle corn, mini-donuts, make-yer-own-bannock and maple candy. You had us at mini-donuts.
Two horse open sleighs – Not crucial, but a nice touch. Don't always have the room (or enough shovels). Deep freeze had it, so does Silver Skate. Should also be free.
Visual arts – Tough to pick a winner here. Ice on Whyte was a display of top level artistry, to be sure, but the Adventure Walk was at night and had hundreds of beautiful LED lanterns hung around the forest, video installations, crazy fire sculptures and people dressed like forest animals and fairies. And let it be said that downtown Edmonton looks really cool, thanks to Metropolis. There's free skating there, too. Silver Skate's contribution to eye candy this year will be dozens of enormous snow sculptures and a nightly "fire installation."
Theatre – No one's going to sit in outside in the winter and watch any show longer than five minutes. What seems to work best is a sort of "interactive dinner theatre" approach to outdoor winter theatre, minus the dinner or the theatre, where the observers move around the site to pick up the threads of the story. Borrowing a concept from the Adventure Walk, Silver Skate introduces the Baba Yaga Trail, a sort of Frozen Burning Man routine where hikers learn the tale of Prince Ivan and the Firebird before coming to a "spirit house," which is then lit on fire, with flammable contributions from festival-goers. Burning stuff is fun.
Live music – Dancing keeps you warm, too. Silver Skate has a eclectic line-up for the after-dark crowd this weekend including Murdoch and Sparrow, Jason Kodie, Allez Ouest, Terry Morrison, Neko Rei, F&M, Psychic City, comedy troupe Atomic Improv and the dance troupe Vibe Tribe. Music starts at 6 p.m. Saturday and Sunday, not so much during the day due to the speed skating races.
Crafts – Surprisingly not as important as you might think, mainly because mom and dad often end up having to make the craft (and then lug it around) for the little kids, and kids old enough to do it themselves often don't want to do it anyway. Keep it simple, make it quick, and preferably relevant to the theme of the festival. The "fire sticks" at the Adventure Walk were perfect.
A place to warm up – You can't have a proper outdoor winter festival experience unless you can go back inside once in a while. Fire good, too.