EDMONTON RADIO: Hot 107's Russell James bounces back to the Bounce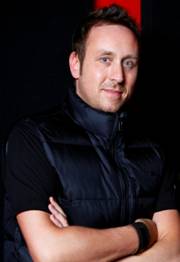 The Bounce 91.7 has scored a broadside hit on archrival Hot 107 in what has come to be known as the Great Edmonton Top 40 Radio Wars – they have stolen back program director Russell James.
"I don't think steal is the right word," says Bounce operations manager Al Ford. "Hired is a better word."
James, who was with the Bounce from 2007 until he moved over to launch Hot 107 in October 2009, will be moving back to the Bounce at the end of the month. The award-winning announcer, music director and DJ takes over PD duties from Ford, who had been programming both Sonic 102.9 and the Bounce since the Bounce was bought by Rogers, which also owns Sonic, in 2010. Hot 107, meanwhile, was sold in December by independent owner John Yerxa to Harvard Broadcasting, which also operates Lite 95.7, formerly The Sound.
Clear?!
Ford says he's glad to be able to focus all his attention on one station, which "in a market as competitive as Edmonton, you have to make sure you're laser-focused."
James has become something of a celebrity himself, as the once-per-month house DJ at the Haute nightclub  in Hollywood, said to be frequented by the likes of Justin Timberlake and Prince. As for the what possible change in Bounce direction might be forthcoming after he takes the wheel, it's too early to say, of course. James couldn't be reached for comment Wednesday.
Ford says, "I brought him because he's a great music programmer, an innovative programmer and he knows the market extremely well. He'll have his stamp, but we're not looking to change into Hot 107.2.0. That's not our intent."
Hot 107 general manager Tamara Konrad, who will be putting out a call to find a new program director shortly, says she's disappointed she's losing such a gifted broadcaster, but "I also respect his decision. It's his decision. He's been a true professional."
She adds that a single person isn't responsible for the success of any radio station and it's a "team effort." True, but every team needs a good leader, and if the history of Edmonton Radio has taught us anything, a program director can make – or break – a radio station. With three top 40 frequencies in Edmonton, four if you count Now 102.3, something's got to crack soon. Maybe it already has. We can only take so much Katy Perry.