Iron Maiden returns to Rexall Place July 27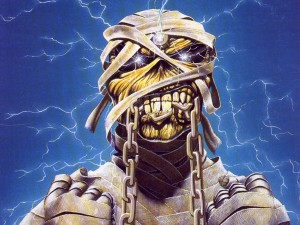 Gird your loins, good sirs, and stow thy dragon dice, for thy liege shall return, and when Iron Maiden declares "thou shalt rock," it behoves thou to harken, varlets …
Or some sort of fancy faux-fangorian hooey, the only sort of language suitable to describe one of the greatest fantasy metal bands of all time. So rejoice! Iron Maiden will play Friday, July 27 at Rexall Place, part of its "Maiden England World Tour" named after the 1988 longform video of the same name. The production, it is said, is designed to be a throwback to that time, fulfilling the ongoing quest of highlighting the History of Maiden, which reads rather like Adventures of the Knights of the Round Table. Long story.
Opening the show in Edmonton will be New York rock band Coheed and Cambria. Alice Cooper will only be opening on tour dates before July 21.
Tickets to the show go on sale Friday at 10 a.m. – and are expected to go fast. Last time through Edmonton, in 2010, Bruce Dickinson and his compatriots packed Rexall Place with 14,000 black-shirted fans – 13,998 of which were male – witness to a grand and grandiose spectacle of metallurgic arts risen to such glorious heights of excess of the sort that only Iron Maiden can get away with. Dickinson clearly believes every word he's singing with such lusty enthusiasm, in one thundering tune after another on the subject of pestilence, war, famine, death, fun and frivolity. The 53-year-old singer, who can quote Shakespeare to an arena-ful of metalheads and be hailed as conquering hero, performs without a shred of either self-consciousness or self-parody. So pay heed, loyal minions, for while Ozzy is king, Iron Maiden is thy kingdom. Or something like that.