FILM REVIEW: Oscar shorts show brilliance in brevity, on screen at the Princess Theatre
Posted on February 18, 2012 By LH Thomson Culture, Film, Front Slider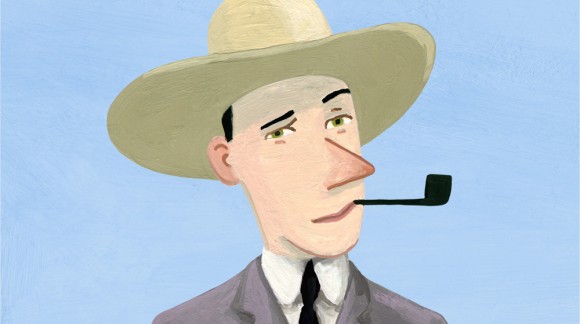 It's astonishing how much sentiment a few well-paced moments can command.
For all the hype that surrounds the big-budget entries at the annual Hollywood love-in that is the Oscars, there's something special about the nominations for shorts. Few of these cartoons and live-action films will ever get much attention, compared to their longer brethren – and yet their brevity makes their power that much more astonishing.
The Edmonton International Film Festival (EIFF) is screening all of the Oscar-nominated shorts at the Princess Theatre on Whyte Avenue this weekend and next, leading up to the Academy Awards on Sunday, Feb. 26 (on CTV). Admission is $7 per showing. (Win passes by clicking here.)
Animation
Sunday/Dimanche (Canada, 10 minutes): Many a typical Canadian prairie kid can vividly recall the family's Sunday routine: killing time leaving coins on the local train tracks, putting on one's Sunday best, sitting through Sunday service, going over to someone's house for the big dinner, and finding ways to kill time – while the adults talked – with nothing but your imagination. Though the artwork is sparse and stylized, the narrative picks up all the small, noticed details that made those days so memorable.
A Morning Stroll (UK, 7 minutes.): A tour-de-force of animation that demonstrates how style affects our perceptions, A Morning Stroll begins with a simple street scene, emphasizing how it might have been animated in 1959. Then it jumps ahead through several time periods, reinterpreting the look of the scene – as well as its narrative – each time. This heady stuff is all the more impressive, because it stars a chicken and features a breakdancing zombie. This short won the jury prize for best animated short at last year's EIFF, and it was well-deserved.
La Luna  (U.S. 7 minutes): Mega-studio Pixar's offering is a whimsical story of a young Italian boy and his grandfather who take a boat trip and wind up where things hit your eye like a big pizza pie. No spoilers here as to how, but the film accomplishes it using arresting animation that seems to have stepped right off the pages of a children's storybook.
The Flying Books of Morris Lessmore (U.S. 17 minutes): The one film among the animated Oscar shorts that comes off incoherent in purpose and direction, this really personifies a "moving picture," where the narrative is less stated than implied, and the only really obvious facet of it is the passage of time. Essentially, a man lives in a world surrounded by books, but they're more like his children, and he imbues them with a butterfly-like spirit, as they flit around him, offering up wondrous new worlds to explore. But it's all a bit too vague, a bit too much like a flight of fancy. Probably a lot more fun on hallucinogenic drugs, although the CGI animation is very impressive.
Wild Life (Canada, 13 minutes, top picture): Bleakly sad, this short is animated in the style of impressionist oil paintings coming to life, telling the tale of an adventurous young Briton who, like so many other sons of English privilege, decided to strike out and make his way in the West. But with nothing but a shack and 90 acres, things do not bode well for him. The stylized art is truly breathtaking and the story is a slice of pathos right out of the history of the prairies.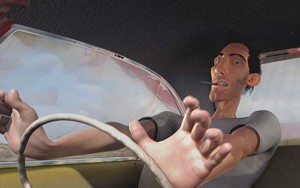 BONUS ANIMATION: Along with the Oscar entries, the Animation show includes a handful of critically acclaimed other shorts that were not nominated. Skylight uses penguins – funny, funny penguins – to highlight the elimination of their habitat; Amazonia use frogs – funny, funny frogs – to demonstrate the food chain in the jungle, to a score of Beethoven's 8th Symphony; Nullarbor (right) is a riot – a CGI tale of a desperate smoker speeding through the Australian outback in an old '50s Caddy, and his rivalry with another driver. It's a classic. And Hybrid Union features another clash of wills, this time between "plus" and "minus," oil paintings of abstract characters who face off in the desert but then join forces to race a new foe.
Live action
Pentecost (Ireland, 11 minutes, below): A young lad in 1974 Ireland makes a small mistake in church as an altar boy that leads to a priest injuring himself, then spends two weeks grounded before he's given a chance at redemption. Unabashedly anti-authoritarian, it uses sports metaphor to underscore the stifling pressure of an disciplined upbringing in a small community.
Raju (Germany/India 24 minutes): Underpinned by staggeringly emotional and raw performances, this is a short morality play on the business of poverty in India. It's set against the backdrop of a German couple adopting a four-year old Indian boy and how easy it is for good people to behave selfishly when the exploited party can't defend themselves.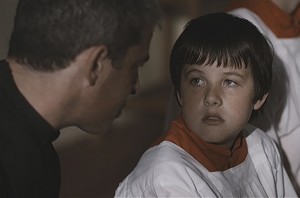 The Shore (Ireland, 31 minutes): About the strength of community and the power of friendship, this is a fine tale of a reunion between two old friends in Ireland. Though it may lack some of the subtext inherent to most of the other shorts, the acting is fine and the script has one genuinely funny mistaken identity sequence that really helps carry it.
Time Freak (U.S. 11 minutes): An excellent little time travel tale that introduces a neat twist on the theme and gets progressively more surprising as it goes along. A young physicist discovers that trying to fix one little detail of his life can be a bigger deal than expected. It's funny, and clever, and you won't guess the ending.
Tuba Atlantic (Norway, 25 minutes, subtitled): Aided by a young teen girl with braces who says she's his local Angel of Death, a dying old fisherman on the Faeroe Islands tries to accomplish a tuba blast so great it can be heard in America. He also machine guns seagulls. It's weird, and fun, and about the strange relationship between the two.
***
Animation plays Saturday, Feb. 18 at 3 p.m.; Monday, Feb. 20 at 11 a.m. and 3 p.m.; and Sunday, Feb. 26 at 3 p.m. Live Action plays Sunday, Feb. 19 at 3 p.m., Monday, Feb. 20 at 1 p.m. and 5 p.m. and Saturday, Feb. 25 at 2 p.m. at the Princess Theatre.
Oscar Nominated Short Films 2012 Theatrical Trailer from Shorts International on Vimeo.