BOOKS: All the Dirt on organic farming: not for everyone, says Heather Stretch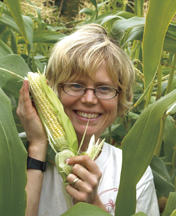 When Edmonton expat Heather Stretch comes to town this week to promote All the Dirt, the book she co-wrote about organic farming, she'll obviously be keen to share her knowledge with folks passionate about sustainable local agriculture who might want to follow in her muddy footsteps. But she has another audience in mind as well – people who would be better off forgetting the whole idea.
"Yes, we want to encourage people to farm, but we also want to warn people off if it's not a good fit for them," Stretch says on behalf of her  co-authors, Rachel Fisher and Robin Tunnicliffe. "Thirty bucks is a small price to pay if it stops you from quitting your job and going out to pursue some dream that turns out to be totally unrealistic."
Stretch admits she may have belonged in that category herself when she left Edmonton to start working a plot of land owned by her family on Vancouver Island. All the Dirt chronicles her voyage of discovery and the transformation of her farm into a viable business, comparing and contrasting it with the experiences of neighbouring farmers (and eventual business partners) Fisher and Tunnicliffe.
"The first season I didn't know enough to know that what I was doing was kind of ridiculous, that I probably should have apprenticed on another farm first," Stretch says. "I shouldn't even have turned the soil in the first year. But I bought a bunch of books, took a part time night class at the community college, turned way too much ground and sort of went for it. So consequently my memory of those first few years is this blur of feeling overwhelmed and covered up in weeds. Good thing too – I had no idea how much food could grow in a small area – and gradually, through my friendship and subsequent partnership with Robin and Rachel, I started to get a handle on what I was doing."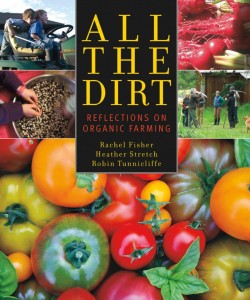 More than just a rigorous how-to on growing and marketing organic food, though, All the Dirt glorifies the joy of real food, weaving in stories of family and community-building, and dwelling on the social, environmental and ethical implications of the way we eat in a manner that makes it a compelling read for more than the relatively narrow audience of aspiring agrarians.
"We're all involved in the food system. There's no line between environmentalism and food production or ethical labour systems – all these things are related," Stretch says. "It goes all the way from healthy soil, healthy plants, healthy animals and all the way up to healthy people and healthy cultures. People eating processed food while driving in their cars is unhealthy on so many levels, and you're certainly not fostering any relationships eating that meal all by yourself. People preparing healthy food together is really important for our culture."
What's more, our future food security may depend on supporting a sustainable, local, healthy food supply as a hedge against the fossil fuel-intensive, biodiversity-eroding, nutritionally questionable industrial food production system that claims the bulk of shelf space at the grocery store. Stretch notes that's something for which people should be prepared to pay a little more, though that cost is easily offset with a bit more mindfulness about menu-planning and preparation.
"I want to talk about how we can get local food to go beyond the lovely slice of heirloom tomato on top of your salad to local, sustainably produced food being the bulk of the calories on your plate," she says. "I think it doesn't make sense that quick and easy are the two top criteria for what we put in our bodies. The great thing about changing the food system is that it doesn't have to be negative – think about how much more richness can be brought into your life through more conscious food choices that aren't based on the lowest price."
Stretch will be reading from All the Dirt and answering your organic farming-related questions on Thursday, Feb. 23 at 7 p.m. at Zocalo (10826 – 95 St.) and on Sunday, Feb. 26 from 11 a.m. to 3 p.m. at the Hole Enjoy Centre (101 Riel Dr., St. Albert). And if necessary, she will level with you. It's for your own good.
"I've had [seasonal labourers] work with me for a year and they said, 'Oh yeah, it was so awesome, I learned so much and one of the things I learned is that I don't want to do this for a living.' I think that can be valuable too."