CONCERT REVIEW: Deep Purple thrills 3,500 intimate stangers at Rexall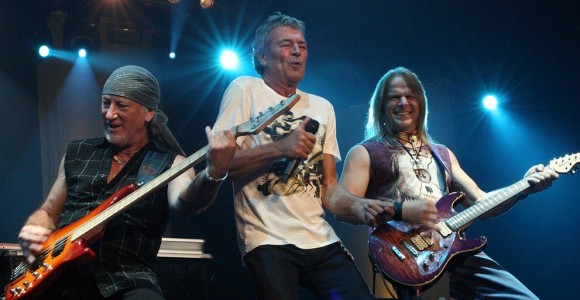 Forty summers ago they ruled the planet with Machine Head and Smoke On the Water – a song about a Swiss gig gone horribly wrong – and they became some of Headbangerdom's first anthems, long before we had a name for the throngs of long haired, bobble-headed moppets. They have their place in The Guinness Book of World Records, twice: "loudest band" (at 121 decibels) and getting 15,000 guitarists together in one setting to bang out Smoke on the Water's signature riff.
Yeah, we're talking about Deep Purple, and to question their place in Western popular music is akin to a Hindu spitting on Ghandi. It just isn't done.
Tuesday night in Edmonton, 3,500 wheezers and geezers took to their seats at Rexall Place to watch Deep Purple (Mach VIII) take to the stage and – together – try and relive some old glories. Indeed, the band is so old, there is only one original member left (Ian Paice, drums): Rockers old enough to collect old age security, though not if Stephen Harper has anything to do with it.
A low note in the proceedings is that singer Ian Gillan (the original Jesus Christ Superstar) is no longer able to hit the high notes, as witnessed by his performance in the opening number, Highway Star and later in Space Truckin'. Little wonder they didn't attempt Child in Time.
To the good things about the show: guitarist Steve Morse (ex Dixie Dregs) has stepped up and filled in for original guitarist Richie Blackmore in a manner that goes way beyond apt. Morse performed solos and trills that made mouths open and eyes bulge. Seeing that Morse has now performed on more Deep Purple records than the legendary Blackmore, it is time to get over our youth and finally accept Morse as THE Deep Purple Guitarist.
Don Airey filled in for original keyboardist Jon Lord and kept true to the sound, real Leslie cabinets on stage instead of processors to synthesize the Hammond tones. His playing was dexterous, putting the "Rach" in "Rachmaninoff."
While Deep Purple rose to many expectations, as in Maybe I'm a Leo, Black Night and of course Smoke on the Water, they still managed to give a few surprises. Woman From Tokyo was introduced by Gillan as "not about a woman – or Tokyo." And for the encore, instead of the preferred face-melting sonics of something like Burn or Speed King, we got the nostalgic noodling of Hush.
Opening for Deep Purple was Jonas and the Massive Attraction, bringing its hits Big Slice and Seize the Day through one of the better sound mixes afforded opening acts in this building. They took time to thank Deep Purple for the influence – but given the D tunings and the quiet-loud-quiet dynamic, The Massive Attraction's set was more a testament to the lasting influence of grunge rock.
You may scoff at Deep Purple for being too old, but the fact of the matter is they wrote or invented many things that we now take for granted as cliché. This band is a lesson to all you punks out there: Aging will come to all of us; that is, assuming you have the life skills to get you through this cock-eyed caravan to bring you to old age. And rocking out is not a bad chariot on which to make that arrival. Deep Purple is threatening a new album and – thus – another tour. But, if this turns out to be the last time we ever see them, know this: They lived with an awesome sound.