DREAM GIG: Edmonton metal singer joins Into Eternity
Posted on February 23, 2012 By Kevin Maimann Front Slider, Music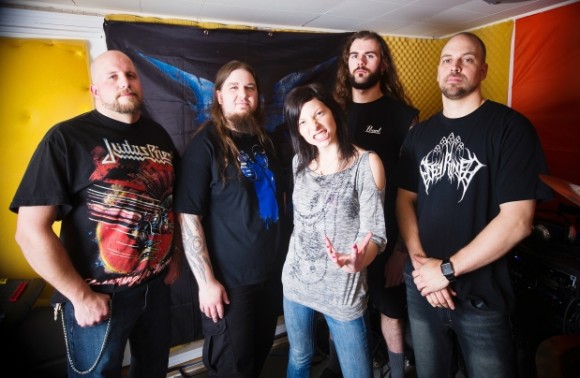 Amanda Kiernan has landed her dream gig as the new lead singer of one of her favourite bands, Into Eternity, a globally renowned progressive metal act she's looked up to since her teens. They'll be on stage at the Pawn Shop Monday night.
Into Eternity picked Kiernan as its new touring vocalist after watching an audition tape she sent in last year (see below).
"Into Eternity has been one of my favourite bands since high school, so I saw the opportunity and I just had to take it. And I'm glad I did because a lot of amazing things are happening now," says Kiernan, who will be taking a break from, but definitely not quitting her regular band, The Order of Chaos. "Never in a million years I thought I would be doing this."
Led by songwriter-guitarist Tim Roth, Into Eternity now has two Edmontonians; the Regina band recruited Kiernan's friend, Death Toll Rising drummer Bryan Newbury, last year. Kiernan is filling in for Stu Block, who has stepped into the lead vocalist spot for Iced Earth. Block, known for his outrageous vocal range that slides effortlessly from falsetto wails to guttural screams, leaves big shoes to fill. Kiernan is up for the challenge. She got a chance to jam with the band in Regina for a week and even received coaching from Block himself, who played Edmonton with Iced Earth two weeks ago.
"My weakest points were the really high falsettos, but even in the two days with him being there he's helped me so much. And now that I've been practising them, it's just getting stronger," she says.
Kiernan assures her local fans that The Order of Chaos is her No. 1 priority, adding that the Edmonton band has been "really supportive" of her. Into Eternity is a part-time gig for Kiernan right now, as Block has not officially left the band and will likely return in time to record its next album.
"At first it was definitely a little upsetting (for The Order of Chaos), just because we've been working for so many years and it was kind of difficult for them to take it all in," she says. "It was kind of really bad timing for me to do something like that, but then again, this opportunity only comes once in your lifetime."
Kiernan knows metal crowds can be unforgiving when they don't feel a new member is up to snuff. She remembers being upset when Into Eternity's old singer Chris Krall left the fold in 2004, and being unexpectedly blown away when she first heard Block, who replaced Krall.
Kiernan hopes to similarly win over Into Eternity's current diehards.
"I'm definitely nervous to get out in front of everybody," she admits. "I'm sure at first everyone will hate it, just because first of all, Stu Block is just gone for a little while and me being the touring singer, right now people are probably pretty upset with that. And also because I'm a woman – that probably caught everybody off guard."
Flying high as she looks forward to a jam-packed summer touring with both bands, Kiernan hopes her unlikely story will inspire others to take more chances.
"The message I'm trying to get out to people that you can do anything you put your mind to," she says. "It's just about believing in yourself, practising, and passion."