WEEKEND MUSIC PREVIEW: Royal Canoe runs a tight ship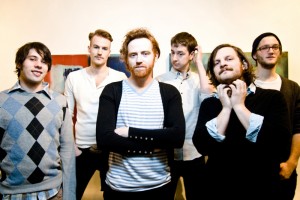 The biggest show coming to the city this weekend actually plays Thursday (Bombay Bicycle Club) –  but there are still plenty of interesting options this weekend. Friday night's picks include country artist Tim Hus, though your best bet may be Peter Case, who's been recording since 1986. On Saturday, Wunderbar hosts Royal Canoe and friends.
Thursday
Bombay Bicycle Club – This indie-rock quartet from London, England, have seen its share of buzz on both sides of the Atlantic Ocean in the past couple of years. The band's 2009 debut album "I Had the Blues But I Shook Them Loose" peaked at #46 in the UK, but both of their next two releases, including 2011's "A Different Kind Of Fix," rocketed into the top ten. The Darcys open. Starlite Room, 9 pm, $15.
Women Of Folkways – If indie rock is not quite your cup of tea, the kickoff event for the Winter Roots and Blues Roundup features Edmonton's own women of folk Maria Dunn, Cindy Church, Shannon Johnson and Laura Vinson. Yardbird Suite, 7:30, $25.
Friday
Attention To the Wounded – This weekend's album release party features this punk group from Millet. Autopsy Of An Icon and Stallord also perform. Avenue Theatre, 6:30, $12.
Breakmen – The Full Moon Folk Club is presenting this Vancouver quartet, which specialize in roots-folk-Canadiana, and was a double nominee at the 2009 Canadian Folk Music Awards. St. Basil's Cultural Centre, 7 pm, $22.
Tim Hus – Born in Nelson, BC, and now based out of Calgary, this country artist has released five albums over the last ten years, including his most recent, 2010's "Hockeytown." Festival Place, 7:30, $18.
Scenic Route To  (top picture) – This local band rocked everyone's world at last year's Edmonton Folk Music Festival, and is the Sonic 102.9 Band Of the Month for February. They must be doing something right. Also performing at the showcase are Owls By Nature, and One Way State, along with Viking Fell. Pawn Shop, 8pm, $10.
N.N – DV8 Tavern is hosting a trio of the city's best alt-punk bands, with Sir Ma'am Ma'am and Van Gohst also on the bill. 9pm, $10.
Peter Case – This Buffalo-born singer-songwriter who played with the Nerves and the Plimsouls has been recording music on his own since his eponymous debut in 1986, with his most recent studio album coming in 2011, called "Wig!" Winter Roots and Blues Roundup film and concert event at the Royal Alberta Museum Theatre, 9 pm, $20.
Saturday
The Give' Em Hell Boys – Black Dog Freehouse's no cover afternoon show features this alt-country band, although it doesn't give them a lot of recovery time after a Friday night performance at New City Legion opening up for Fire Next Time. 4 pm.
Mad Bomber Society – The regular early show at the Pawn Shop features this local punk-ska band. 7 pm, $10.
Jim McLennan – Although better known as a world-renowned fly fisherman, McLennan has been a musician for over forty years, and has been featured in Guitar Player magazine. His debut solo album, "Six-String Gumbo," was released in 2011. Blue Chair Café, 8 pm, $20.
Royal Canoe (above) – These indie-popsters from Winnipeg invade Wunderbar with an infectious live show. The extraordinary bill also features the buzzworthy Doug Hoyer and The Martyrs performing opening duties. 8:30, $7.